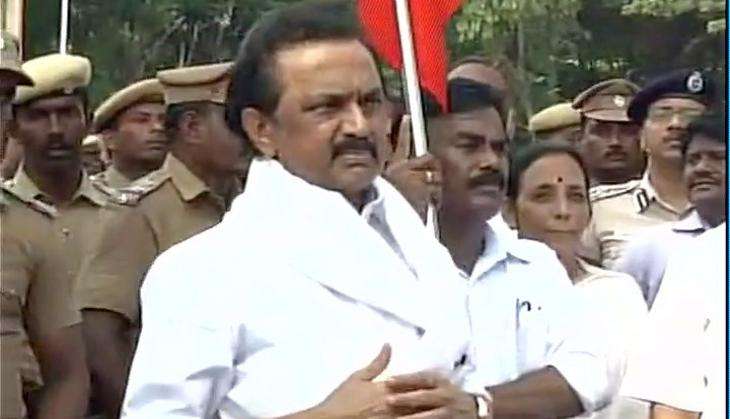 Dravida Munnetra Kazhagam (DMK) treasurer MK Stalin led his party's 'Rail Roko' demonstration over the Cauvery issue in Chennai, on 17 October.
Protests continue in Tamil Nadu demanding that the Union government ought to set-up the Cauvery Management Board in order to resolve the deadlock between Karnataka and Tamil Nadu.
Keeping its pressure on the ruling AIADMK over the Cauvery conflict, a 48-hour 'rail roko' agitation has been called by the farmers' organisations.
The protesters raised slogans accusing the Centre and Prime Minister Narendra Modi of "betraying Tamil Nadu's interests".
They condemned the Centre for taking a stand against setting up the Cauvery Management Board (CMB) immediately on the ground that the matter fell in the domain of the Parliament.
While Stalin is leading the demonstration in Chennai, other agitations were held in front of Central government establishments including railway stations on Friday.
The protest has been called to condemn the Centre's stand in the Supreme Court against the setting up of the CMB and to urge the state government to immediately convene an all-party meeting to discuss the issue. DMK has asked its functionaries and cadres to participate in the protest.
#CauveryIssue: MK Stalin leads DMK's 'Rail Roko' demonstration in Chennai pic.twitter.com/GcqKxJ9mdV

— ANI (@ANI_news) October 17, 2016
MK Stalin leads DMK's 'Rail Roko' demonstration over #CauveryIssue in Chennai. pic.twitter.com/Qc8i4a4bh3

— ANI (@ANI_news) October 17, 2016
#CauveryIssue : Different Opposition parties stage 'Rail Roko' protest in Thanjavur (TN). pic.twitter.com/YhuSJmCkV1

— ANI (@ANI_news) October 17, 2016
The case filed by Tamil Nadu regarding Cauvery river water sharing will come up for hearing before the top court tomorrow.
The high level central technical team appointed by the Supreme Court had inspected Krishnaraja Sagar, Kabini dams in Karnataka, Mettur Bhavani Sagar dams in Tamil Nadu.
The GS Jha-led team had interacted with the PWD officials and delta farmers in Thanjavur Nagapattinam and Tiruvarur.
Farmers in Tiruchirapalli and delta regions told the team that samba crops will be damaged if water is not released into Cauvery by Karnataka.
--ANI