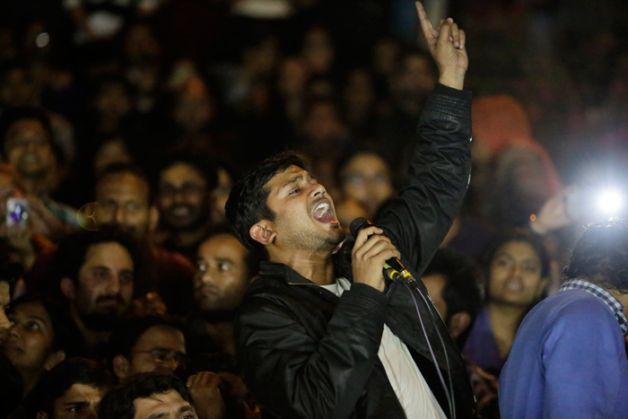 The BJP's youth wing, Bharatiya Janata Yuva Morcha, filed a complaint against JNU Students' Union president Kanhaiya Kumar for making 'anti-national' statements during a speech on International Women's Day and defying his bail conditions.
Kanhaiya had said: "No matter how much you try to stop us, we will speak up against human rights violations. We will raise our voice against AFSPA. While we have a lot of respect for our soldiers, we will still talk about the fact that in Kashmir, women are raped by security personnel."
He had continued: "During war in Rwanda 1000 women were raped. In Africa during the ethnic conflict, when military attacks other group firstly their women were raped. You take example of Gujarat, women were not just killed but were raped first."
In their complaint to the police, the BJYM said: "Despite the submission of an undertaking before court, Kanhaiya has yet again addressed a gathering of students and uttered poisonous words against the Indian Army, labelling them as rapists of Kashmiri women."
The BJYM has also filed a complaint against JNU professor Nivedita Menon for allegedly saying that "it is recognised worldwide that India is illegally occupying Kashmir".
No FIR has been registered against Kanhaiya or Menon, according to The Indian Express.
While Kanhaiya's party, the All India Students Federation, said he had made that remark in the context of atrocities ofn women worldwide, and that ".He in no way meant to demean the Army or any other force and he clarified that in his speech too", the ABVP issued a statement saying, "the judge in her order also advised Kanhaiaya to not forget the contribution of those sacrificing lives on borders. His statement is an attack on Indian Army".