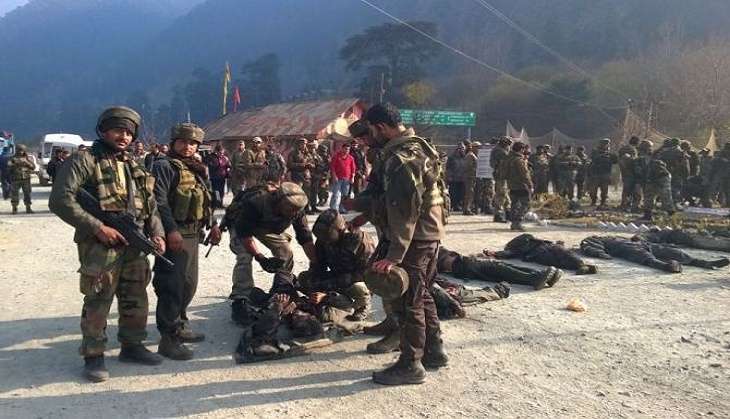 Describing the attack on 12th brigade headquarters at Uri as extremely serious, the Bharatiya Janata Party (BJP) on 18 September blamed Pakistan-based Lashkar-e-Taiba responsible for the bloodshed and said it is high time that Islamabad must now confess to backing these terror outfits.
BJP leader Ravinder Raina said that the Lashkar-e-Taiba terrorists entered India from Pakistan occupied area of Muzaffarabad.
"From the past few days, Kashmir valley is witnessing shutdown due to Pakistan and this fidayeen attack is also a matter of serious concern for our country. Pakistan is continuously targeting India and this time again bloodshed in India is due to Pakistan," he said.
Also read:PM Modi condemns Uri attack, says those responsible will be punished
Jammu and Kashmir Deputy Chief Minister Nirmal Singh has blamed Pakistan for the terror attack, saying that this was a massive controversy against India, adding the Centre is looking into Islamabad's role in the matter.
Singh stated that the current situation of unrest in the Valley is the result of the proxy war in which Pakistan has been indulging since ages.
In a statement, the Army said that a group of heavily armed terrorists targeted the rear administrative base of a unit at Uri, and in the counter action, four terrorists have been eliminated and combing operations are in progress.
Meanwhile, Defence Minister Manohar Parrikar and Army Chief General Dalbir Singh will visit the Valley to take stock of the situation.
-ANI
Also read: J&K: 17 soliders killed in militant attack in Uri; all terrorists dead
Also read:Uri encounter: Rajnath Singh cancels US trip, instructs MHA to monitor situation in J&K