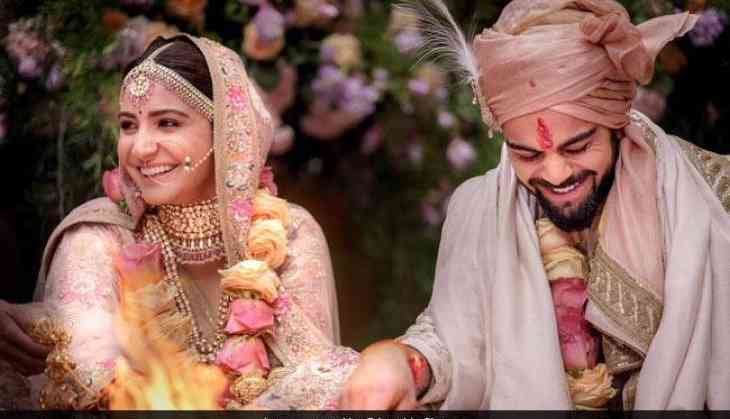 The wedding of Indian cricketer Virat Kohli and Anushka Sharma had been one of the most celebrated occasions of the year. The couple got married to each other in a private ceremony in Tuscany, Italy. While most of the people have fallen in love with the place where the couple got married, there are some for whom the fact did not went well.
The couple took off to Italy a few days before their fairytale wedding and their decission of marrying on the foreign land has been questioned by one of the BJP MLA. Pannalal Shakya, the local BJP MLA while attending an event on PM Narendra Modi's Skill India campaign in Guna, gave his views on their marriage.
ALSO READ: Here are all the pictures and videos from Virat Kohli-Anushka Sharma wedding functions
Addressing the crowd he said how Virat and Anushka both earned fame and money in India but how they chose to spend a huge amount of money in Italy and not in their own country. He during his speech said, "Ram, Krishna, Yudhishthira married in India. All you people have either been married or will be married in India. No one goes to a foreign land to get married like they did. He earned his money and fame in India and took it abroad."
He even questioned their patriotism and said, "This vindicates that Bharat Bhumi does not mean anything to him and this is not rashtra-bhakti or deshbhakti."
ALSO READ: Anushka Sharma blushes while Virat Kohli sings 'Mere Mehboob Qayamat Hogi' for her lady-love; see adorable video
The couple will be hosting two grand receptions on December 21 in New Delhi for their relatives and the other one on December 26 in Mumbai for their friends in the industry and the cricketers. The couple had been dating for quite a long time and tied the nuptial knot on December 11.