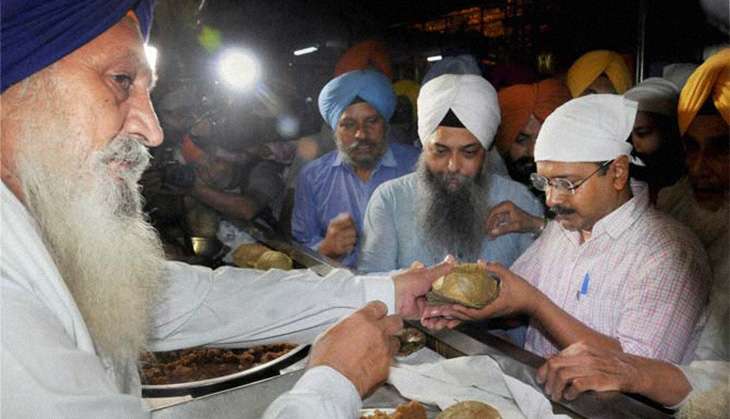 The BJP and Congress today joined hands to demand the derecognition of Aam Aadmi Party by the Election Commission over using the image of the Golden Temple on its youth manifesto and the recent suicide of its woman activist over an alleged case of sexual exploitation.
Raising the issue during Zero Hour in the Lok Sabha, BJP MP Meenakshi Lekhi referred to the suicide. She said as a case had been filed earlier against an AAP activist by the victim for outraging the modesty of a woman, it should now be treated as abetment to suicide and action should be taken against top AAP leaders including Delhi Chief Minister Arvind Kejriwal.
She also demanded derecognition of AAP by the EC.
A similar demand was made by Congress MPs Ravneet Singh Bittu and Santok Singh Chaudhary.
Chaudhary alleged that an AAP legislator has been named in a case of alleged desecration of the Koran, while Bittu claimed that using the image of the Golden Temple on its youth manifesto had hurt the feelings of Sikhs in Punjab. Both also sought AAP's derecognition.
The issue of BJP leader Dayashankar Singh, now expelled from the party, using inappropriate words against BSP supremo Mayawati was raised by Congress chief whip Jyotiraditya Scindia.
Maintaining that atrocities against Dalits across the country were growing, he said the use of derogatory words against Mayawati showed that despite government claims of following Dr Ambedkar, "the BJP wants a Dalit Mukt Bharat".
Intervening in the matter, Parliamentary Affairs Minister Ananth Kumar said the party has taken action against the BJP leader and also condemned the incident in strongest words.
The Congress members, however, insisted on the BJP taking police action against Singh, to which Kumar said it was upon the state government to do so.
BJP members also raised the issue of suicide by two Dy SPs in Karnataka due to alleged pressure from ministers.
Former Chief Minister BS Yeddyurappa said the Karnataka government did not want honest officers and demanded a CBI inquiry into the matter.
Ashwini Kumar Choubey (BJP) claimed anti-national slogans were raised at a rally in Patna which supported controversial preacher Zakir Naik and AIMIM leader Asaduddin Owaisi.
TDP MPs raised the issue of granting special status to Andhra Pradesh, as the state had lost out on revenue to Telangana due to its bifurcation. RJD MP Jaiprakash Narayan Yadav also made a similar demand for Bihar.
P Karunkaran (CPI-M) demanded the withdrawal of 100% FDI in the defence sector.
-PTI