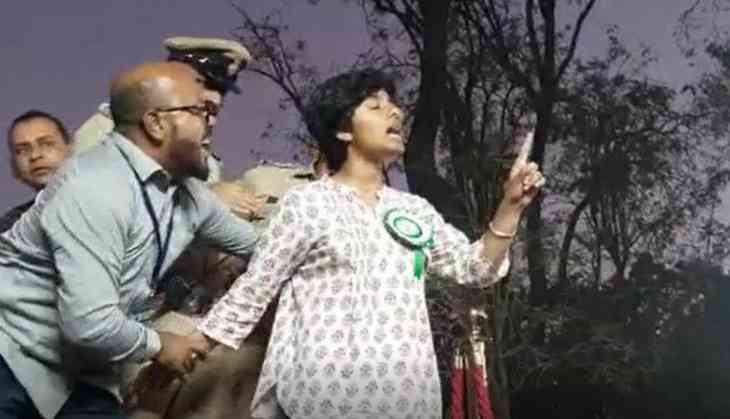 A sedition charge has been slapped against a women after she raised pro-Pakistan slogans at a protest against Citizenship Amendment Act in Bengaluru. Hyderabad MP Asaduddin Owaisi, who was in attendance at the protest, distanced himself and his party—All India Majlis-e-Ittehadul Muslimeen (AIMIM) from the sloganeering, stating, "We, in no way, support our enemy nation Pakistan."
The women, identified as Amulya, is observed in a clip urging the crowd to shout 'Pakistan Zindabad' at the protest coordinated under the banner of 'Save Constitution'. AIMIM leader and two other men, rushed to stop her from shouting the slogan, they took away the mic from her.
"Kya bol rahein hain aap (What are you saying)?" the AIMIM chief tells Amulya as she persists. "The difference between Hindustan Zindabad and Pakistan Zindabad is..," the woman, is heard saying but several men stop her midway.
Also Read: Maharashtra CM may have own view on CAA, NCP is against it: Sharad Pawar
Also Read: Congress MLA Arif Masood distributes posters reading 'No CAA, No NPR, No NRC' in Bhopal
#WATCH Ruckus erupts at the protest rally against CAA&NRC in Bengaluru where AIMIM Chief Asaddudin Owaisi is present. A woman named Amulya at the protest rally says "The difference between Pakistan zinadabad and Hindustan zindabad is...". pic.twitter.com/FPh5Ccu3HD

— ANI (@ANI) February 20, 2020
Amulya was taken into custody last evening as soon as the event ended, a sedition case has been lodged against her. "We have filed a suo moto case against her under sections 124A(sedition), 153A and B (promoting enmity between different groups) and imputations, assertions prejudicial to national integration)," senior police officer B Ramesh said.
Her bail application was denied and was sent to judicial custody for 14 days. A local court will hear her bail plea on Monday.
Launching an attack on the AIMIM and Asaduddin Owaisi, the state BJP tweeted, "'Anti-CAA Activist Amulya Leona shouts PAKISTAN ZINDABAD in the presence of AIMIM Chief @asadowaisi at Bengaluru. Truth is that protests against #CAA are a joint venture between Pakistan & Anti-National Forces led by @INCIndia. Those who support Pakistan should go there forever."
However, Asaduddin Owaisi elucidated that his party has no links with Amulya. "Neither me nor my party has any link with her. The organisers should not have invited her here. If I knew this, I would not have come here. We are for India and we, in no way, support our enemy nation Pakistan. Our entire drive (against CAA) is to save India," the AIMIM MP was quoted as saying by news agency PTI.
JD(S) corporator Imran Pasha claimed that she was sent by rival parties to make a mess of the event. The women, he said, was not in the list of speakers and demanded that the police probe the matter gravely.
Amulya's father, while speaking to news agency ANI, said: "What she said is wrong. She was joined by some Muslims and wasn't listening to me!"
In a Facebook post, Amulya had expressed admiration for all the neighbouring nations including Pakistan. "Long Live India! Long Live Pakistan! Long Live Bangladesh! Long Live Sri Lanka! Long live Nepal! Long live Afghanistan! Long Live China! Long Live Bhutan!," she posted in Kannada as she wrote about love for one's own country and respect for other nations.