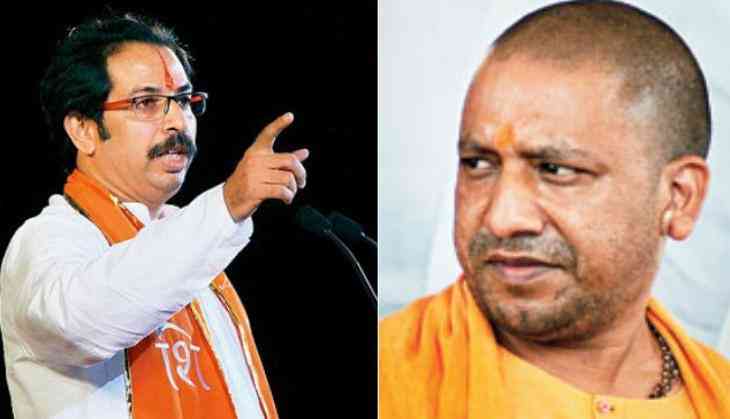 Uddhav Thackeray and Yogi Adityanath
After the Ram Temple demand growing in the state and the country by the right-wing groups, the Shiv Sena chief Uddhav Thackeray has said that everyone is eagerly waiting for the Mandir.
The government needs to bring in a law and pass it in both the houses of Parliament, which seems otherwise as BJP is well short of majority in the Upper House and hence, an ordinance is being demanded by the lawmakers of the BJP.
The Shiv Sena leader Uddhav, with his family and 3000 other supporters have reached Ayodhya yesterday, to attend the Dharam Sabha being organized by the Vishwa Hindu Parishad and the Rashtriya Swayamsevak Sangh, the parent body of the BJP.
More than 2 lakh workers and supporters of the right-wing groups have mounted their tents in Ayodhya, and are demanding the construction of Ram Mandir as early as possible, as the BJP government is in power, in both UP and the Center.
Saints who blessed me y'day,I'd told them that the work which we're about to begin can't be done without their blessings.I've no hidden agenda in coming to Ayodhya.I've come to express sentiments of all Indians&Hindus across world.All are waiting for #RamTemple: Uddhav Thackeray pic.twitter.com/gdnVCvOhoy

— ANI UP (@ANINewsUP) November 25, 2018
Uddhav Thackeray has said today, "Saints who blessed me y'day,I'd told them that the work which we're about to begin can't be done without their blessings.I've no hidden agenda in coming to Ayodhya.I've come to express sentiments of all Indians&Hindus across world.All are waiting for Ram Temple."
Thackeray added that UP CM Yogi Adityanath has said that Ram Temple has always been here and it will be re-build but his action doesn't seems so. "Maine suna tha ki CM Yogi ji ne kaha ki mandir tha, hai aur rahega. Ye to hamari dhaarna hai, hamari bhavna hai. Dukh iss baat ka hai ki wo dikh nahi raha, wo mandir dikhega kab. Jald se jald uska nirmaan hona chahiye."
Targeting the BJP over court rhetoric, he said that "Agar mamla adalat ke paas hi jana hai to chunav ke prachar ke darmyan usey istemaal na karein aur bata do ki bhaiyo aur behenon hamein maaf karo ye bhi hamara ek chunaavi jumla tha. Hinduon aur unki bhavnaon ke saath khilvaad na karein yahi kehne main yahan aaya hoon."
Agar mamla adalat ke paas hi jana hai to chunav ke prachar ke darmyan usey istemaal na karein aur bata do ki bhaiyo aur behenon hamein maaf karo ye bhi hamara ek chunaavi jumla tha. Hinduon aur unki bhavnaon ke saath khilvaad na karein yahi kehne main yahan aaya hoon: U Thackeray pic.twitter.com/XDTNolvsk7

— ANI UP (@ANINewsUP) November 25, 2018