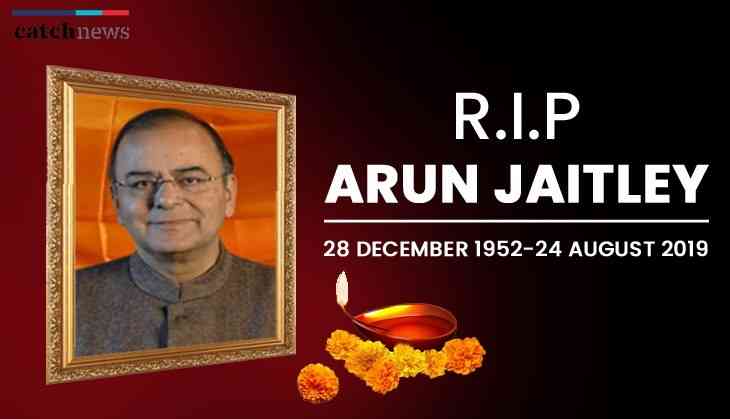 Former Finance Minister and BJP senior leader Arun Jaitley died on Saturday in New Delhi's AIIMS after his prolonged illness. The veteran BJP leader was 66. He was admitted to AIIMS on 9th August after he complained of anxiety and palpitation.
Earlier, All India Institute of Medical Sciences released a news bulletin and said was being treated by a multidisciplinary team of senior doctors.
From the last few days, the health condition of the former Finance Minister was deteriorated and he was on a life support system.
As per the reports of reports, Jaitley took his last breath at around noon today in the hospital.
After this news broke out, the political leaders from BJP, oppositions and Bollywood celebs have poured in their condolences over the demise of Jaitley.
Also Read: Arun Jaitley Dead: From cricket enthusiast to ABVP president: 10 lesser known facts about BJP stalwart
Many leaders rushed to AIIMS while many shared their grievances on social media.
PM Modi who is on his three-day visit to UAE took to Twitter and wrote, "Arun Jaitley Ji was a political giant, towering intellectual and legal luminary. He was an articulate leader who made a lasting contribution to India. His passing away is very saddening. Spoke to his wife Sangeeta Ji as well as son Rohan, and expressed condolences. Om Shanti."
Arun Jaitley Ji was a political giant, towering intellectual and legal luminary. He was an articulate leader who made a lasting contribution to India. His passing away is very saddening. Spoke to his wife Sangeeta Ji as well as son Rohan, and expressed condolences. Om Shanti.

— Narendra Modi (@narendramodi) August 24, 2019
Full of life, blessed with wit, a great sense of humour and charisma, Arun Jaitley Ji was admired by people across all sections of society. He was multi-faceted, having impeccable knowledge about India's Constitution, history, public policy, governance and administration.

— Narendra Modi (@narendramodi) August 24, 2019
During his long political career, Arun Jaitley Ji held multiple ministerial responsibilities, which enabled him to contribute towards India's economic growth, strengthening our defence capabilities, creating people friendly laws and enhancing trade with other nations.

— Narendra Modi (@narendramodi) August 24, 2019
With the demise of Arun Jaitley Ji, I have lost a valued friend, whom I have had the honour of knowing for decades. His insight on issues and nuanced understanding of matters had very few parallels. He lived well, leaving us all with innumerable happy memories. We will miss him!

— Narendra Modi (@narendramodi) August 24, 2019
Check how other leaders and B-towns celebs reacted on Arun Jaitley's death:
Deeply condole the death of our senior leader #ArunJaitely Ji, who was like an elder brother to me. Have worked with him since my student days for more than 45 years. His intellect, leadership and eloquence was truly extraordinary. We all will really miss him. My deep condolences

— Ravi Shankar Prasad (@rsprasad) August 24, 2019
Shri @arunjaitley Ji will be remembered as a great human being, legal luminary & an outstanding parliamentarian who served the nation selflessly throughout his life.
He was a true democrat who fought emergency as a student leader.

— Yogi Adityanath (@myogiadityanath) August 24, 2019
श्री अरुण जेटली जी एक कुशल वक़्ता, सफल अधिवक्ता और सौम्य राजनीतिज्ञ के रूप में सदैव स्मरणीय रहेंगे. विनम्र श्रद्धांजलि! ईश्वर उनकी आत्मा को शांति प्रदान करे.

शोकाकुल परिजनों के प्रति हार्दिक संवेदना.

— Akhilesh Yadav (@yadavakhilesh) August 24, 2019
निठुर नियति की यह कैसी लीला है ? पहले आदरणीया सुषमा स्वराज जी तथा अब माननीय अरुण जेटली जी भी ईश्वर की शरण में चले गए। वित्त मंत्री जैसे विपुल पदों की शोभा बढ़ाने वाले जेटली जी का देश की अर्थव्यवस्था को सुदृढ़ बनाने में महत्वपूर्ण योगदान रहा है।#ArunJaitley

— Vasundhara Raje (@VasundharaBJP) August 24, 2019
saddened by the passing away of mr ⁦@arunjaitley⁩ ji. A great n dynamic leader. U will b missed sir. RIP #arunjaitley 🙏 pic.twitter.com/eBbGH0NOjr

— Kapil Sharma (@KapilSharmaK9) August 24, 2019
Deeply saddened by very sad demise of our great leader Arun Jaitley ji and heartfelt condolences to his family and millions of @BJP4India karyakartas. Om Shanti !! #ArunJaitley

— Pankaja Gopinath Munde (@Pankajamunde) August 24, 2019
Deeply saddened by the passing away of Shri #ArunJaitley ji... deepest condolences to the family & loved ones. 🙏🏽 pic.twitter.com/hhxcbj9C03

— Riteish Deshmukh (@Riteishd) August 24, 2019
Nation loses another great leader.Our thoughts and prayers are with his family.#ArunJaitley pic.twitter.com/RXGw1bWDLP

— Sunny Deol (@iamsunnydeol) August 24, 2019
Also Read: Former Finance Minister Arun Jaitley passes away after prolonged illness