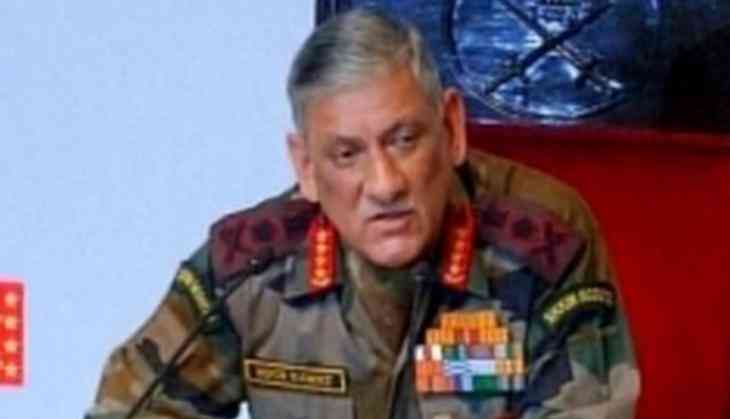 Army Chief discusses Kashmir unrest with NSA Ajit Doval (ANI)
Army Chief General Bipin Rawat on Sunday met National Security Advisor (NSA) Ajit Doval during which the duo discussed the recent tension in Kashmir Valley.
The meeting took place a day after the Chief of Army Staff met Jammu and Kashmir Chief Minister Mehbooba Mufti in Srinagar.
Earlier on Saturday, General Rawat met Jammu and Kashmir Governor N.N. Vohra in Jammu, where he briefed him on the prevailing situation in Kashmir.
In the latest development, a group of terrorists barged into a medical shop owner's house in Srinagar yesterday and shot him dead.
Bashir Ahmad Dar, a resident of Qasba Yaar Rajpora Pulwama who runs a medical shop in his village, was taken to a nearby hospital where he succumbed to his injuries.
Another local was also injured during the firing and was rushed to the hospital for treatment.
In another development highlighting the soaring violence in the Valley, a youth was killed after the security forces opened fired at stone-pelters in Batmaloo's S.D. Colony in Srinagar yesterday.
'Police is collecting the details and is looking into the circumstances under which a person identified as Sajad Hussain Sheikh, a resident of Chandoosa Baramulla at present S.D. Colony Srinagar got killed,' the police said in a statement.
Some days ago, a video purportedly showing a Kashmiri youth tied to the front of moving army jeep invited protests from human rights groups and criticism from the people including several politicians.
Yesterday, the army said it is investigating the video that was reportedly shot in Beerwah area of Budgam district where miscreants disrupted polling during Sunday's by-poll to the Srinagar Lok Sabha constituency by pelting stones.
Interestingly the video surfaced within days after another video cropped up showing a Central Reserve Police Force (CRPF) personnel walking down a street while being heckled, kicked and punched by youth, setting off a nationwide outrage.
There was no retaliation by the security personnel, who quietly walked to their camp as they were under instructions to not open fire, officials in the paramilitary said.
Condemning the present state government and its failure to control the situation, the opposition has demanded the imposition of Governor's Rule in the Valley.
Former Jammu and Kashmir chief minister Farooq Abdullah, post winning the Srinagar by-polls, yesterday accused the People's Democratic Party's (PDP) of failing to protect the people of the state and demanded Governor's rule in Jammu and Kashmir.
-ANI