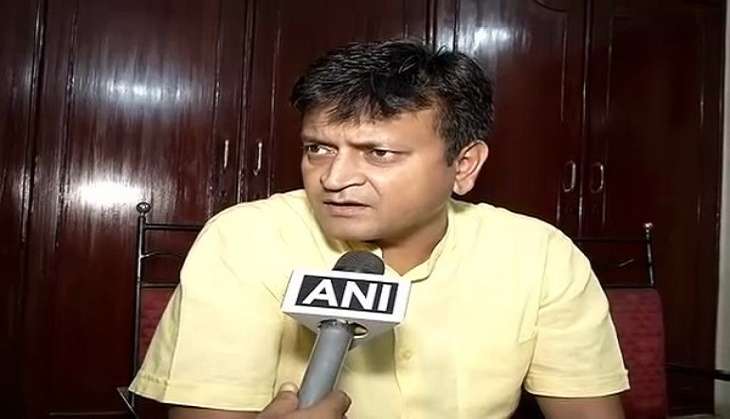 After the Hurriyat leaders refused to meet the all-party delegation led by Union Home Minister Rajnath Singh, the Panun Kashmir, a frontal organisation of migrant Kashmiri Pandits, today refused to meet the visiting parliamentarians, saying they have humiliated the nation by not giving enough time to the representatives of various delegations to put forth their concerns.
Ajay Chirangoo, president of the Panun Kashmir countered Rajnath Singh's assertion and said that it was never about Kashmiriyat or insaniyat.
Also read: Kashmir unrest: Ready to hear everyone out, say leaders as all-party delegation arrives in Valley
"The entire seditious moment is a fascist moment in the valley. It's an Islamic fascist moment and the Government of India knew it from the very beginning," he said.
Chirangoo said the Government of India was aware of the fact that the entire segment of Hurriyat leadership is supporting this movement.
Also read: Rajnath Singh: Separatists don't believe in 'insaniyat, Kashmiriyat, jamuriyat'
"How would they think they are going to meet them and they will be talking to them on democracy or humanity? They are trying to befool themselves and fool the whole nation. I personally feel the nation has been humiliated yesterday in the Valley. Today they have humiliated the nation in Jammu by reluctantly agreeing to come to Jammu and talk to the representatives in Jammu for a few hours," he added.
Also read: Kashmir unrest: Over 100 injured in Shopian clashes, mini-secretariat building set ablaze
The Panun Kashmir president said it was humiliating that the all-party delegation has given a time of just eight minutes to 12 organisations.
Extremely upset with the separatists move to reject the offer of talks, Rajnath earlier today said this clearly indicates that they don't believe in 'insaniyat, Kashmiriyat, jamuriyat' while reiterating the doors are always open for those keen on holding a dialogue to restore normalcy in the region.
Also read: Kashmir unrest: Youth killed in clashes, death toll rises to 71
Kashmir has been on the boil since the killing of Hizbul Mujahideen commander Burhan Wani on 8 July.
-With ANI inputs