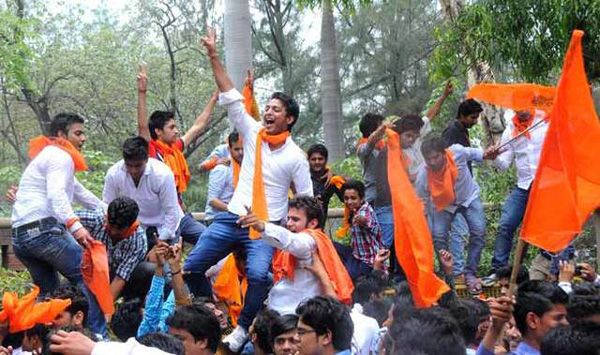 The Akhil Bharatiya Vidhyarthi Parishad (ABVP), the student wing of the RSS, will hold meetings at universities and colleges across the country between 26 March and 10 April to explain the "real facts" behind the controversies at JNU and Hyderabad Central University (HCU).
The exercise is meant to counter allegations that ABVP workers are responsible for these controversies and that ABVP students are interfering in the ways universities and colleges function.
The decision to hold this exercise was taken by office bearers of the ABVP at a meeting in Bhopal on 17 March, according to The Indian Express.
"Literature about the facts behind these incidents (in HCU and JNU) will be distributed during interaction with the students," said Dharampal Singh, ABVP's UP-Uttarakhand regional organisation secretary. Copies of Dalit scholar Rohith Vemula's suicide note will also be distributed to show that he had not held either the ABVP or any government agency responsible for his death.
Rohith Vemula, a Dalit Ph.D. student, had committed suicide on the campus of Hyderabad Central University on 17 January this year after he was suspended along with five other Dalit students for clashing with ABVP students.
Referring to the situation at JNU, though without naming Kanhaiya Kumar, the JNU Students Union president who had been arrested for sedition for allegedly raising anti-national slogans, Dharampal said they will tell students that there was no pressure from the ABVP to arrest the students.
"We will tell students that the Vemula case was given a 'caste' colour and facts of the incident were presented in public in manipulated form to make that incident an issue against the Centre," said ABVP leader and Allahabad University Student Union (AUSU) vice-president Vikrant Singh. "We will also assure students that the ABVP does not interfere in administrative affairs of institutions."
Singh also said youths need to be "alerted" about political parties that are allegedly "supporting and strengthening anti-national forces who observe 'Shahadat Diwas' for Parliament attack convict Afzal Guru on campuses.
"We will also distribute pamphlets in which students will be asked whether they will accept anti-national slogans on campuses or prefer a nationalist atmosphere," said Singh. "Youths should be told that people who allege that intolerance has increased under Narendra Modi have themselves become intolerant against the government."