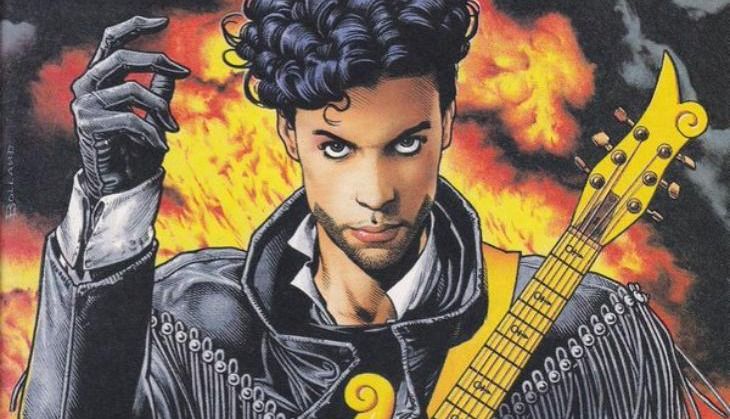 "Dearly beloved..We are gathered here today to get through this thing called life..." - Lets go Crazy, Purple Rain (1984)
It looks like 2016 has overstayed its welcome. It has only been four months to be sure, but haven't you had enough already? Processing the loss of David Bowie and Alan Rickman was proving difficult enough, but to add Prince to the list of legends we'll never see or hear again makes one want to just skip the rest of 2016. 
For Prince wasn't just a singer. He was a musical prodigy from a broken home who dressed like a prince and performed like a demi-god. 
He worked himself and his fans up to a chaotic frenzy in his live concerts only to effortlessly transcend into sublime tranquility. He didn't merely talk about acceptance - of people, colour, diversity, sexuality - he practised it. 
Let the doves loose, the Prince has left the building. 
Rest in Purple, Prince. 
A purple nebula, in honor of Prince, who passed away today. https://t.co/7buFWWExMw pic.twitter.com/ONQDwSQwVa

— NASA (@NASA) April 21, 2016
Every Prince hairstyle from 1978 to 2013, in one chart: https://t.co/px4CEY7Zcx pic.twitter.com/qnNgooXi2j

— Slate (@Slate) April 22, 2016
Woke up to the news of @prince passing away :'( Thank you for all that you have done you will be missed #RIPPrince pic.twitter.com/AtGH6u5h2l

— BossLogic (@Bosslogic) April 22, 2016
The King and Prince 😇 pic.twitter.com/NXD3tlShPA

— #AskElissia Vids ❤️ (@Ask_Elissia) April 22, 2016
"If you ever lose someone dear to you, never say the words, "they're gone," and they'll come back." -Prince 🙌🏽 pic.twitter.com/rsTo58BaCO

— Peyton List (@PeytonList) April 22, 2016
Rest in Peace #Prince @prince pic.twitter.com/qdR640OY5v

— Stephanie Olivieri (@StephOlivieri) April 21, 2016
"Dearly beloved, we are gathered here today, to get through this thing called life" #RIP #Prince pic.twitter.com/IDSc4I3ZSn

— Devan Sagliani (@devansagliani) April 22, 2016
You will be missed, Prince. [image: Brian Bolland's Prince cover from DC's Piranha Press imprint circa Dec. 1991] pic.twitter.com/UnQqCqQxPr

— DC (@DCComics) April 21, 2016
--
Edited by Blassy Boben