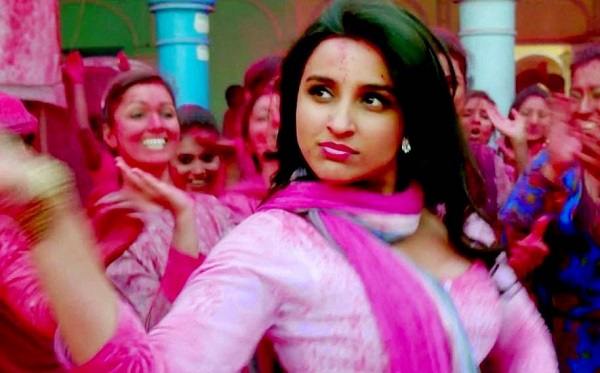 The happiest festival of the year is finally here! It is that time of the year when streets and property will be covered with every color that you can think of.
Apart from smearing each other's faces with colours and turning everyone into sloppy looking creatures, Holi is also the season to dance to your favorite Holi songs. Bollywood has songs for every mood and occasion and Holi is just another excuse to make merry. Bollywood has been rolling out song after song based on Holi since the 1950s. Yes, that long!
Here's a list of all the Bollywood songs your Holi playlist needs. Just keep these on loop and go have fun!
1. The classics
Holi Aayi Re Kanhai (1957)
Movie: Mother India
Music director: Naushad
This vibrant song is one of Bollywood's first Holi songs. The song features the ever-so-graceful Nargis alongside Sunil Dutt and Rajendra Kumar. The splash of color in the black and white era was a treat to the eyes.
Are ja re hat nathkat (1959)
Movie: Navrang
Music Director: C Ramachandra
Are ja re hat nathkat is a Bollywood cult favourite. One of the most memorable Bollywood Holi songs of all time features Sandhya's inimitable dance.
Tan Rang Lo ji Aaj man rang lo (1960)
Movie: Kohinoor
Music Director: Naushad
Cut to the 1960's and tragedy stars Dilip Kumar and Meena Kumari created magic when they danced to this striking playful number composed by Naushad. This song is sure to give you the Holi feels.
Holi Khelat Nandlal (1963)
Movie: Godaan
Music Director: Pandit Ravi Shankar
Holi Khelat Nandlal is one unconventional Holi song. The song has a folk element to it and is still remembered for its rural feel and energy that Rafi's golden voice evokes.
Bam Bam Bam Lahiri Lehar Lehar Nadiya Gehri (1965)
Movie: Do Dil
Music Director: Hemant Kumar
This not-so-memorable movie had a fun Holi score, including this track, depicting Holi celebrations in a village.
Layi hain hazaron rang Holi (1966)
Movie: Phool Aur Patthar
Music director: Ravi
This film, hugely responsible for making Dharmendra the star that he is today, had an impressive picturisation of a Holi song. The lyrics of the song add a deeper meaning to Holi.
2. Retro time
Aaj Na chodenge (1970)
Movie: Kati Patang
Music Director: RD Burman
1970's was considered to be Rajesh Khanna's year. This mischievous Holi song delightfully captured the spirit of Holi. You just cannot miss the sparkling chemistry betweeb Rajesh Khanna and Asha.
Holi Ke din (1975)
Movie: Sholay
Music Director: RD Burman
Sholay is not only popular for Gabbar's famous dialogue, Holi kab hain? But also for its foot-tapping, Holi Ke din. Besides, this is when love blossomed between the iconic Veeru-Basanti pair.
Rang Barse (1981)
Movie: Silsila
Music Director: Shiv-Hari
Can you really imagine Holi without at least one round of Rang Barse Bheege Chunar wale? This is everyone's go-to Holi anthem.
Maro bhar bhar kar pichkari (1981)
Movie: Dhanwan
Music Director: Hridayanath Mangeshkar
We totally agree with the lyrics of the song. It basically tells you to let bygones be bygones and just take pleasure in the spirit of Holi.
Holi aayi, Holi aayi (1982)
Movie: Mashaal
Music Director: Hridayanath Mangeshkar
This song captures the spirit of Holi celebrations among Mumbaikaars. A colourful song for a happy festival.
The hot-list
Aang se Aang milana (1993)
Movie: Darr
Music Director: Shivkumar Sharma, Hariprasad Chaurasia
This song has made many a Holi celebration a crazy dance fest for over two decades now. An obsessed stalker camouflaging his identity shows you that plenty can happen during Holi.
Soni Soni Ankhiyon wali (2000)
Movie: Mohabattein
Music Director: Jatin Lalit
This contemporary song is apt for the exuberant festival and is sure is to add a lot of fun to the festival of colors.
Holi khele Raghuveera (2003)
Movie: Baghban
Music Director: Aadesh Shrivastava
Amitabh Bachchan is the king of Holi songs. He recreated the magic of Rang Barse in the family drama like no one else could. We totally want to be able to dance like the gorgeous duo Amitabh Bachchan and Hema Malini.
Do me a favour lets play Holi (2005)
Movie: Waqt - The Race against Time
Music Director: Anu Malik
This number is yet another Holi-must. Akshay Kumar and Priyanka Chopra's dance moves add that extra punch.
Chan ke Mohalla (2011)
Movie: Action Replay
Music Director: Pritam
Aishwarya Rai Bachchan will make you want to shake a leg. But its safe to assume that no Holi celebration ever ended with anyone looking as good as she did in the song.
Balam Pichkari (2013)
Movie: Yeh Jawani Hai Deewani
Music Director: Pritam
This is the new-age Holi song. How can someone look so good with all those colors on their faces? This high-on-energy dance number just HAS to be a part of your Holi playlist.
Lahu Muh Lag Gaya (2013)
Movie: Goliyon Ki Rasleela Ram-leela
Music Director: Sanjay Leela Bhansali
Not exactly a foot-thumping dance number but a totally captivating modern take at celebrating Holi. The passion, the chemistry, the background - all of it comes together to make for one regal Holi song.