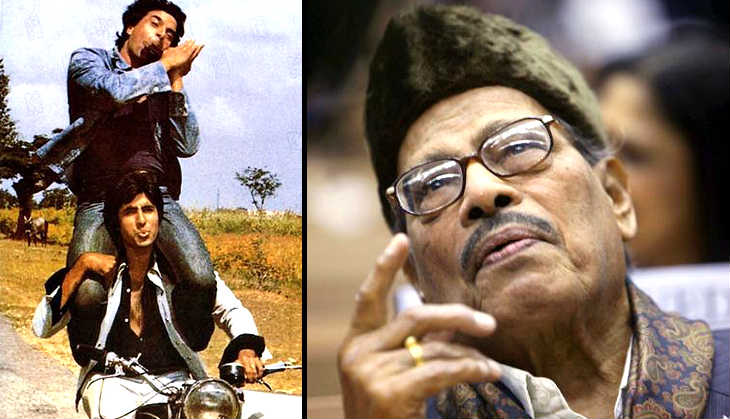 Calling him one of the most gifted singers in the country would be an understatement. Prabodh Chandra Dey or Manna Dey was a musical genius. At a time when Hindi cinema's music composers were experimenting with pop and classical music combos, it was Manna Dey who truly ushered in this era. 
His peak period in the Hindi playback industry was between 1953 to 1976. It was probably the time when every leading male actor had his signature playback voice -- Mohammed Rafi for Dilip Kumar, Kishore Kumar for Rajesh Khanna, Mukesh for Raj Kapoor and the list goes on. Manna Dey broke this tradition and lent his voice to a range of actors from Balraj Sahni to Mehmood, Raj Kapoor, Rajesh Khanna, Raj Kumar to Dharmendra, Uttam Kumar, and Soumitra Chatterjee.
His talent was held at such high regard that Mohd. Rafi once revealed: 
"People listen to my songs, but I listen to only Manna Dey's songs."
After delivering songs like Laaga Chunri Me Daag, Ae Mere Pyaare Watan, Ek Chatur Naar, Paapi Bichua, Zingagi Kaisi Hai Paheli Haye, Ae Bhai Zara Dekh Ke Chalo, Ae Meri Zohra Jabreen and Ye Dosti Hum Nahi amongst other classics, Manna Dey acquired national recognition for having the ability to tune his voice to almost any kind of emotion.
During one of his interviews, the singing legend narrated a memorable incident that had left Mohammed Rafi teary eyed. He explained: 
"Five decades ago when I was recording, Hoke Majboor Mujhe... at Famous Studio, Tardeo in 1963 with Mohd Rafi, Talat Maehmood and debutant singer Bhupinder Singh. The lyrics were penned by Kaifi azmi and music was by Madan Mohan. As I was rendering my lines, Zulfey girke..., Rafi looked into my eyes and I saw tears in them. There was an instant inspiration in me to give an additional melancholic touch to my lines. When the recording was over, there was pin drop silence in the studio. It was broken with thunderous applause and clapping by Talat Mahmood, Bhupinder Singh and Madan Mohan as Mohd Rafi came and hugged me, saying, "Manna da, lajawab!" I also hugged him back, emotionally charged. Madan Mohan confessed that we all delivered better than his expectations and I personally congratulated Bhupinder Singh, who was a brilliant singer and I foresaw a bright future for him." 
Manna Dey succumbed to a cardiac arrest in October 2013, leaving behind his contribution to the era of Hindi music, which is often regarded as the Golden Era.
-- Manna Dey's quote from Hindustan Times