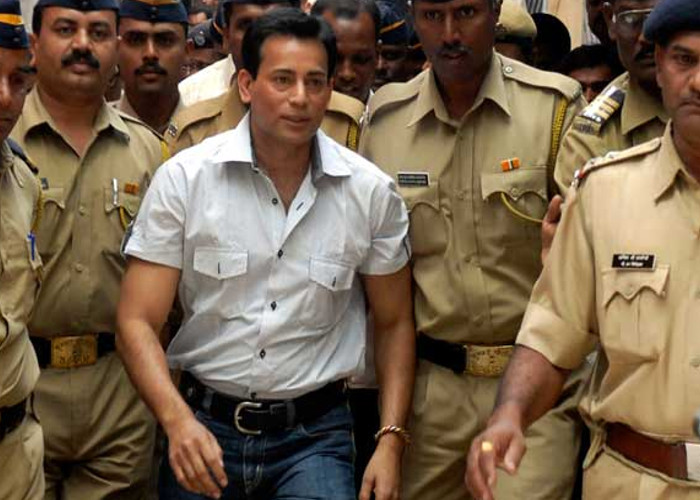 The 'war' between underworld gangster Abu Salem and Hiralal Jadhav, Superintendent of Taloja Jail, just turned uglier.
According to a Mid-Day report, Salem in his recorded statement has accused Jadhav of conspiring to kill him by injecting poison into his body with the help of a medical officer, Dr Bansode, posted at Taloja Jail.
In August 2015, Salem had submitted a 16-page affidavit to the TADA court, in which he had alleged that the new jail superintendent Jadhav was finding innovative ways to torture him to ensure that he either goes mad or succumbs to the pressure.
Also read: Friend turned foe: how Chhota Rajan became Dawood's no. 1 enemy
Following the affidavit, the jail authorities conducted an inquiry into the allegations and the committee recorded Jadhav's statement in the matter as well.
On 25 November, an inquiry committee also recorded Salem's statement, in which he came up with stronger allegations against Jadhav and stated that he and Dr Bansode were planning to kill him inside the jail.
He alleged that the duo was thinking of eliminating him by medication or lethal injections.
Salem claimed that he was made privy to this information by ywo peons in the jail. He added that the peons also revealed that Jadhav and Dr Bansode had plans of writing up a false post-mortem report, to indicate that the death was natural.
He accused the duo of demanding Rs 3 lakh to allow him to visit the Lucknow and Delhi courts as well as the hospital whenever needed. He claimed that the duo told him that the amount was minimal and that he can easily arrange it.
These aren't the only allegations Salem made
Salem also alleged that Jadhav told him that he knows that his extradition period is over and that he won't send him to Portugal and would keep him in the same jail. In his statement, Salem said that Jadhav had told him that he knew arch rival Chhota Shakeel very well.
He also alleged that Jadhav told him that as he is an accused in the 1993 Mumbai serial blats, even if he kills him it wouldn't be counted as a crime.
According to Salem, the peons told him to shift to Thane Jail, otherwise Jadhav would either kill him or make a false report against him. He accused Jadhav of taking signatures from a few prisoners, so that if anything happens, he will use it as a statement against him and present it in court.
Also read: Move over Ocean's 11, here are 8 of the most creative cons India has witnessed
Salem stated that Jadhav told him that after killing him he might be suspended for six months, but after that he will be back in the same position as he has good contacts in the ministry.
Following Salem's allegations, Bipin Kumar, IG Prisons, said that an inquiry is on and statements of those required in the matter are being recorded.