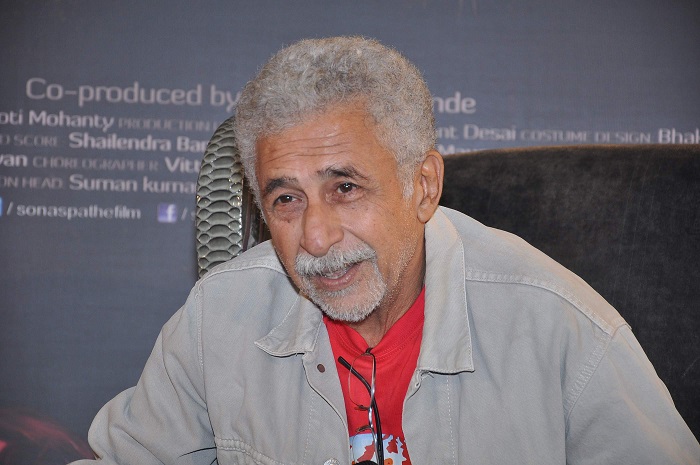 Bollywood veteran Naseeruddin Shah on 14 October stated that he was targeted on Twitter for being a Muslim, as reported by Times of India. This was with reference to Shah's attendance at Pakistan foreign minister Khurshid Kasuri's book launch and his subsequent trolling on Twitter.
He expressed his anguish over the backlash for attending Kasuri's book launch and said, " I will not let anyone question my patriotism for India. This is the first time I am reminded of being a Muslim in India."
Below are some pertinent statements he made:
"My name is Naseeruddin Shah and I believe that's why I was targeted. It really pains me to say this. I have never ever been aware of my identity until now." - Naseeruddin Shah.
"I wish that the protest had been made through their work. I wish those writers, instead of returning their awards, had written more strongly on what is happening to India in protest." - Naseeruddin Shah.
"Awards mean nothing to me and therefore I won't bother returning them." - Naseeruddin Shah.
"What A G Noorani and Dileep Padgaonkar said was not quoted at all and they raised far more pertinent points than I did. But what they said was ignored, only what I said was dwelt on. I don't understand why I am being picked on." - Naseeruddin Shah.
"Four generations of my family have lived in India. I am proud to be an Indian and I will not allow anybody to question my patriotism." - Naseeruddin Shah.
"I do not actually understand that why anything said as a compliment to Pakistan must be construed as anti-Indian." - Naseeruddin Shah.
Naseeruddin Shah wishes Kasuri was welcomed in India as well as Shah was in Pak
Veteran Bollywood actor Naseeruddin Shah on 12 October said that the people should look at the similarities between India and Pakistan rather than the differences.
He added that it is not futile to hope that the two neighbouring countries will learn to beat in harmony. "I wish we could have accorded Khurshid Mahmud Kasuri, the kind of welcome, I received when I visited Lahore.
I would only like to say to hate-mongers and those who prefer confrontation over debate and discussion, that they look for the differences between India and Pakistan rather than similarities," Shah said, speaking at former Pakistan foreign minister Khurshid Mahmud Kasuri's launch of book titled, Neither a Hawk nor a Dove.
"In 1947, it was not just a line which was drawn in the map. It was the heart of Punjab which was severed into two. It is of course futile to hope that those two countries will come together ever again, but perhaps it is not futile to hope that the two countries (India and Pakistan) will learn to beat in harmony," Shah added.