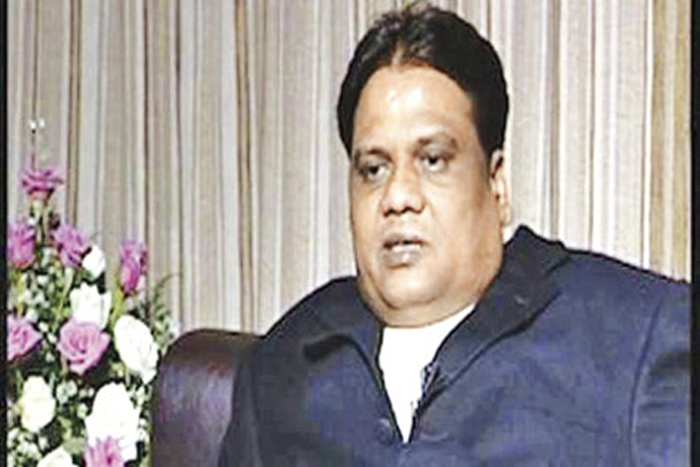 After speculations are on the rife that Rajendra Sadashiv Nikalje alias Chhota Rajan will soon be deported to India, reports are surfacing that he is no longer considered a useful asset by Indian intelligence agencies.
Why?
The reason might be an incident from 2011, in which after getting in touch with the Intelligence Bureau, Rajan had claimed that he had killed one of India's most wanted terrorists- Riyaz Shahbandari alias Riyaz Bhatkal, the chief of Karachi-based Indian Mujahideen.
In order to prove his claim, Rajan had even furnished a photograph of Bhatkal with bullet wounds, but upon verification it was found that the image had been photoshopped. After further investigations, it was revealed that Rajan himself had been fooled; one of his henchmen had provided him the photograph claiming he had killed Bhatkal.
Rajan's henchmen had even claimed a hefty reward for 'killing' Bhatkal, before disappearing all together.
The fake photograph
In the photograph. Bhatkal's face and chest were shown covered with bandages and he was shown lying in a Karachi hospital. Rajan had then claimed that Bhatkal had been shot, following which he was rushed to the hospital, where he died. He had also claimed that the photograph was taken by his henchmen.
After the photograph was released, it had sent shockwaves in the Indian intelligence agencies as Bhatkal had been a menace for India over half a decade with a series of blasts in Mumbai, Jaipur, Pune, Ahmedabad, Delhi and Varanasi.
If Bhatkal had died, it would have been one of the biggest achievements with covert support of Rajan, however after investigations it was found that Bhatkal was alive and the photograph was photoshopped.
Rajan was left shocked after finding out that Bhatkal was alive
When the intelligence agencies informed Rajan that Bhatkal was alive, he was left shocked. Soon he realised that he had been cheated even after paying a hefty amount to his henchmen.
The incident was the proof of two things- Rajan had become significantly weak and the other one was that he wanted to retain the support from the Indian intelligence agencies.
The Indian Express has reported that Rajan's health was also falling, most of his trusted aides including Santosh Shetty, Vijay Shetty, Bharat Nepali and Ravi Pujari, had parted ways with him to float their own gangs. Rajan's aides were even competing for the same 'patriotic don' space which he had once carved out to get the support of the Indian intelligence agencies.
Rajan was not the same don he used to be, his clout had diminished. His own network had shrunk, he wasn't able to get proper information- one of the reason he wasn't able to confirm Bhatkal's death.
Bhatkal's case is not the only one, Rajan had similarly passed on several inputs on Dawood Ibrahim and other terror operatives, which were found out to be false.