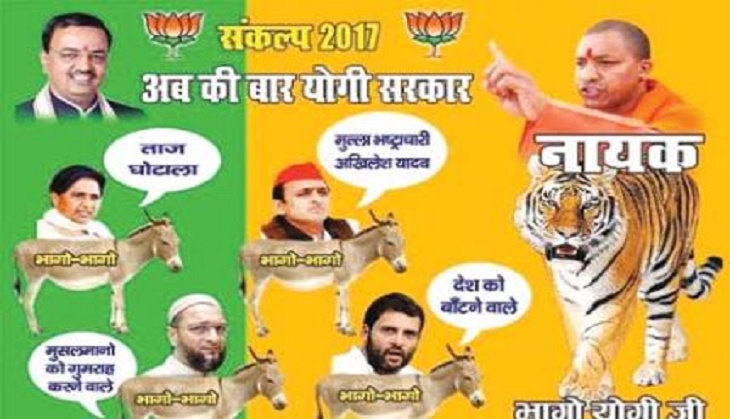 With Uttar Pradesh set to hold the assembly elections next year, political parties have taken to poster wars to reach out to the voters.
A new poster has surfaced in Gorakhpur. The poster - reportedly issued by the BJP minority affairs department - says, 'Abki Baar Yogi Sarkar' - on the lines of Narendra Modi's 2014 general elections campaign.
The poster features BJP MP Yogi Adityanath riding a tiger while leaders of other parties can be seen riding donkeys.
It alleges that AIMIM chief Asaduddin Owaisi is misleading Muslims and accuses the Congress of dividing the nation.
In posters that had made the rounds earlier, UP BJP president Keshav Prasad Maurya was shown as an incarnation of Krishna while UP CM Akhilesh Yadav was depicted as Shravan Kumar.
In another poster, BSP chief Mayawati was depicted as goddess Kali and Congree vice-president Rahul Gandhi as 'Singham'.