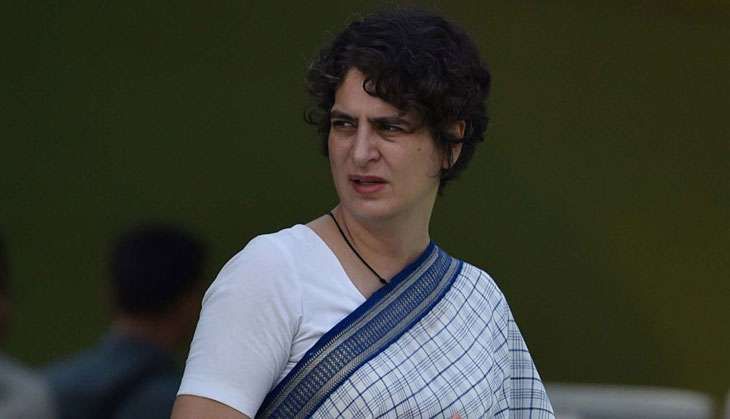 All those who were expecting an all-out blitzkrieg by Priyanka Gandhi for the grand old party in Uttar Pradesh ahead of the 2017 Assembly polls, especially after Rahul Gandhi's interaction with party workers in Lucknow, will unfortunately have to wait.
According to party sources, the Congress high-command doesn't want to take any risk at the moment by actively launching Priyanka. She will likely come step into the broader picture after September end, when she'll begin campaigning aggressively for the party, claimed sources.
Speaking to Catch on conditions of anonymity, a Congress leader said that if the party brings Priyanka into the main scenario right now, then by the time elections roll up, she would have become monotonous and will fail to deliver the kind of result people are expecting from her.
Also read: This is why '27 saal UP Behaal' yatra failed to do any good for Congress in Kanpur
Things are being planned with Rahul in mind
Inside party sources claim that senior Congress leaders are chalking out strategies which do not overshadow Rahul. Currently, the leaders are forming strategies in which Priyanka will be seen in the role of a campaigner and Rahul will maintain the over-all leadership.
Ever since Priyanka's name was doing the rounds for an important role in the upcoming UP polls, the Bhartiya Janata Party (BJP) dubbed this decision as an acceptance to Rahul Gandhi's failure. To downplay this, Congress leaders don't want to take any decision which may raise eyebrows on Rahul's role in the upcoming elections.
Also read: Here's why reviving the Congress in UP is an uphill task for Prashant Kishor
'Amethi, Raebareli and Sultanpur totally mobilised'
According to Prahlad Mishra, who has been associated with the Congress since quite a while, Amethi, Raebareli and Sultanpur are completely under Congress' control and voters of these constituencies are totally mobilised and in favour of the party.
"The three districts will prove fruitful for the party. The people are very excited because of Priyanka's charisma and I am confident that her presence is enough for winning in these districts. No special strategy will be required to win here," said Mishra.
Expressing full confidence in Priyanka, Mishra asserted that her influential personality will be beneficial for the Congress in the politically crucial state. "She is an influential personality and her campaigns will be beneficial for the party," he claimed.
Notably, Prahlad Mishra is the son of deceased senior Congress leader Uma Shankar Mishra, who recently passed away at the age of 93. He was the party's longest and oldest serving Raebareli district unit chief.
Also read: Congress strategist Prashant Kishor faces heat after secret 'Brahmin meeting' in Uttar Pradesh
'UP elections the right opportunity to test Priyanka'
A Congress leader who didn't wish to be named said UP polls is the right opportunity to test Priyanka. He said though it is too early to predict, she is sure to inject new life into the grand old party.

"After Priyanka starts campaigning for the party, party workers will also get a sense of direction. She is also fresh; many of her abilities are still untested. People have a belief that she is charismatic and that she'll be a better leader than her brother. In such a scenario it will be very interesting to see the election results and Priyanka's impact," said the leader.

"Her striking resemblance to her grandmother and former Prime Minister Indira Gandhi will definitely help her in gaining confidence and support of the older generation, who are still fans of Indira," added the leader.

Also read: Asaduddin Owaisi likely to bank on riot victims to capture Uttar Pradesh
'Priyanka fine, but what's exceptional about Sheila?'
Talking about Sheila Dikshit, Prem Dutt Tiwari, a former Congress MLA said that roping in Priyanka was a fine decision. However, his concern was what's so exceptional about Dikshit? Speaking to Catch, he said that on the one hand, the Congress is pinning its hopes on Sheila Dikshit by announcing her as the CM-candidate, but on the other senior people like us have been totally sidelined by the party high-command.

"Dikshit is still being perceived as a parachute leader among a lot of people, despite contesting and winning elections from UP also. We fear that her age factor and the Delhi tag associated with her may not prove well for the party," he said.

"If the party can pin its hopes on a 78-year-old lady, then why can't old leaders like us at least be involved at some level or even given the responsibility of managing a constituency?" he asked.

Also read: Will Asaduddin Owaisi lead an alliance of Muslim parties in Uttar Pradesh elections?