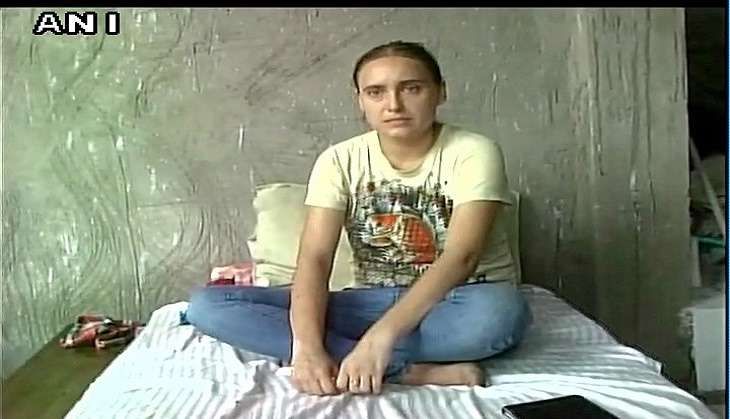 In a case of 'saas-bahu' woes with a twist, this tale from Agra has set tongues wagging as a Russian woman has been sitting in protest against her mother-in-law at the doorstep of the family home, from where she has been kicked out.
Russian national Olga Efimenkova who married Vikrant Singh Chandel in 2011 has been sitting outside her in-law's house on a hunger strike, claiming that she, her husband and daughter have been barred from entering the house.
"I am from Russia and I got married to Vikrant Singh Chandel here in Agra in 2011. My problem is that my mother-in-law has thrown us out of the house and we have no other place to go. So now I am sitting here with my daughter at the gate of the house, as she (mother-in-law) is not letting me go inside," said Olga.
Claiming that it's been almost a day since she has eaten anything, she asserted that she will continue her protest until she and her family are given a place to stay in the house.
Olga further said that she was often been subjected to mental assaults for being a foreigner and also accused of not bringing a dowry with her.
"I have gone quite often to the police station in New Agra and complained but the police refuse to lodge my FIR, saying that this is a personal matter and that they cannot be of any help. I have also called the embassy many time and complained," she said.
Backing his wife, Vikrant Chandel stated that his mother often physically assaulted Olga and kept asking for dowry and money. "She has asked for Rs 11 lakh rupees but I don't have that. She has opened an illegal school and I don't think she has the right papers for that. I went to new Agra police station, but they are not helping. I have been out here since 20 days and now I don't even have any money left," he said.
However, Olga's mother-in-law Nirmala Chandel has maintained that she herself is living in a single room and had gifted the house to her daughter. She has also alleged that her son and daughter-in-law often indulge in gambling and do not care about her well being.
-ANI