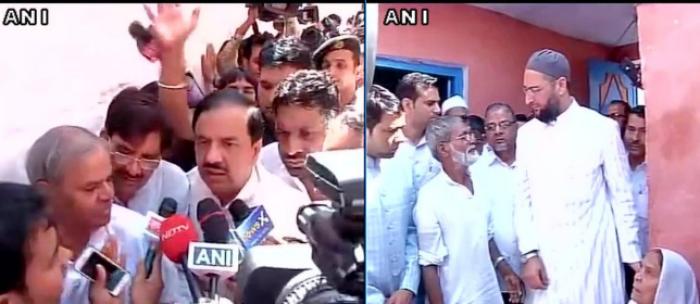 The Dadri lynching case has become a political issue with the BJP and SP indulging in mudslinging. Each is blaming the other for the murder of Mohammad Akhlaq.
Many political parties are criticising both the BJP and SP for the lawlessness rampant in Uttar Pradesh. Accusations are being hurled that right-wing outfits are responsible for triggering communal tension in the country.
Today, AIMIM chief Asaduddiin Owaisi reached Dadri to meet Akhlaq's family members. Union Culture Minister Mahesh Sharma also spent some time with the family.
According to Owaisi, the Samajwadi Party government is incompetent and responsible for the lawlessness in the state. He said that the SP government is "sitting quietly and doing nothing".
He added, "I strongly condemn the SP government and especially the act of sending the meat for forensic investigations. I feel their brains should be tested instead of the meat."
Speaking about Mohammad Akhlaq, he stated, "I am shocked to see that in this case the victim is being treated as an accused."
Owaisi also blamed the BJP for the state's lawlessness and said it is their failure that such incidents are occurring all over the country.
Commenting on Prime Minister Narendra Modi, Owaisi said that when PM Modi can tweet about the demise of renowned singer Asha Bhosle's son, he could have done the same about this incident.
He countered Mahesh Sharma and said that the death of Mohammad Akhlaq wasn't an accident, instead it was a pre-planned murder. According to him, those who are calling it an accidental death are openly supporting the heinous crime.
Akhlaq's death is not a pre-planned murder: Mahesh Sharma
The Union Culture Minister stated that Mohammad Akhlaq's death is an accidental one and not a pre-planned murder.
He stated that some anti-social elements are adding a communal angle to the incident.
Attacking Opposition parties, Sharma stated that this case have given them an opportunity to play politics.
He said,"I am happy that villagers have come forward and said they will take responsibility for security of Muslim residents."
Meanwhile, Uttar Pradesh Chief Minister Akhilesh Yadav stated today, "Justice will be done in this case, and culprits will be severely punished."