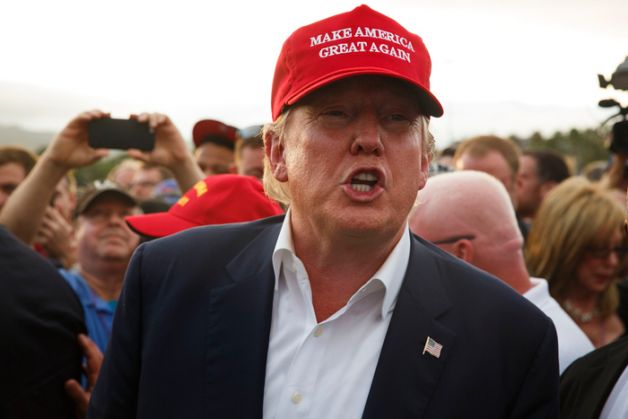 Leading Republican candidate Donald Trump is a veteran when it comes to ludicrous and bashful behaviour. That's what make him a man everyone loves to hate. He wants attention and knows where to buy it. And the best way to give it to him is laughing at him. And these eccentricities of Trump are bound to crack you up:
Trump: The Game
Basically a board game version of Donald's life.
Rosie by any another name
His rivalry with Rosie O' Donnell is almost a decade old. It began in 2006, when he choose not to fire Miss USA Tara Conner on charges of drug use and underage drinking. Rosie, the co-owner of Miss USA, did not support Trump's views on this one. She fired at him on her show, The View, and things got serious.
But Donald's reply on ET was just baffling
Bribing the President into transparency
Donald Trump is no fan of Barack Obama and he's very obvious in expressing the same. In 2012, when the President was running for a second term, Donald jumped into the bandwagon of 'birthers' demanding Obama to release his birth certificate, college, and passport records.
Donald made this video offering to donate $5 million to a charity of Obama's choice if the president releases his passport and college records.
Major Announcement: Donald refused to reveal his own records.
Getting 'too' cosy with Mayor Rudy/Rudia
At the Inner Circle Dinner in 2000, then New York Mayor Rudy Giuliani made one of his last drag appearances in a video with Trump. Obviously, the billionaire couldn't keep his face to himself. Again.
Recently, old friend Giuliani said that Trump's drinking Kool-Aid if he thinks he's going to win the presidential race.
Taking Sarah Palin for the wrong New York Pizza
Jon Stewart was very VERY upset over how Palin and her daughter got ripped-off by Trump when they thought they were enjoying real 'New York Pizza' at Famous Famiglia.
Interviewing himself in the mirror
The epitome of narcissism, Trump, is acing this one. It's more like Jimmy Fallon's crazy moment. Argh, he's a lightweight anyway.
A reality show to just fire people
Trump's 'The Apprentice' is a show where people participate in a bid to earn a place in one of Trump's organisations. It's a stylised and much-hyped "job interview" where Trump shows his true colours and goes berserk on each and every one of them. He always enjoys having the last word: "You're fired!"
Bonus: Trump losing it real-time with WWE
There's no good way to explain this