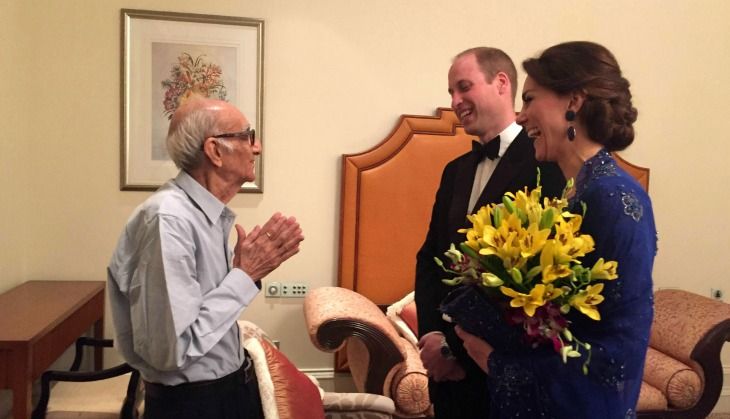 The internet can sometimes help a man realise his dreams. In this case, the dreamer is 93-year-old Boman Kohinoor, restaurateur and the British royal family's self-proclaimed number 1 fan. Odd as it may sound, it was his heartfelt wish that he gets to meet and feed the royals visiting India, Prince William and his wife Kate Middleton.
Conde Nast Traveller helped Kohinoor - the owner of Mumbai's famous Britannia & Co. restaurant - make a video to get the internet to request the royal couple to grant him the honour of hosting them. 
And the internet responded. The video was shared and word of 'Britannia Uncle' reached the royal couple.
'Britannia Uncle' got to meet the duo on Sunday after an unscheduled meeting was arranged for him at The Taj Mahal Palace, where the two are staying.
Talking about his experience, Boman told Conde Nast: "I met Their Royal Highnesses this evening at the Taj. They were very kind and asked me about my restaurant and my favourite dishes there. I told them about the berry pulao and how it's made using my late wife's recipe. They asked me if I could cook. I said no, but I serve my customers well. I told them to give my love to the Queen, and to your children Prince George and Princess Charlotte, too. I wish I had more time to speak, but I'm thankful for this opportunity. And I'm grateful to Conde Nast Traveller for putting that video on the internet because of which this happened."
Though Boman had also invited the royals for a meal at his restaurant, that dream remains to be fulfilled.