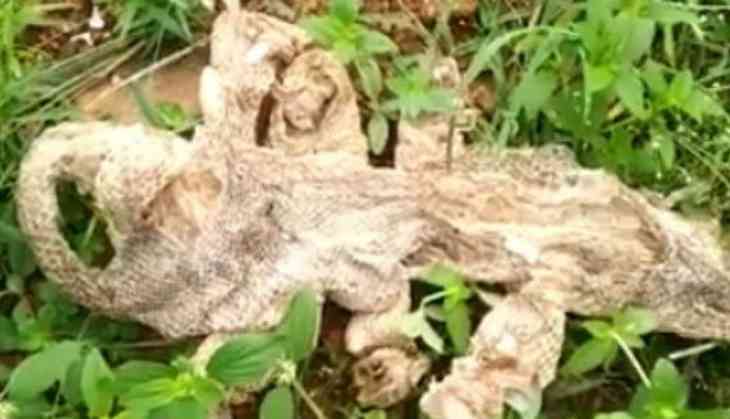 Karnataka's Kanakapura village have been witnessing a huge inflow of people since Wednesday morning. The reason, as per TOI reports, is a snake skin found that many are of the opinion that is of a seven headed snake.
This snake skin was found near a temple has further fascinated the villagers. People from other villages have also come to Marigowdana Doddi village to witness the seven headed snake skin after news of its discovery became rife via social media.
Since the idea of seven headed snake is associated with Hindu Mythology, people have started offer haldi and kumkum.
AlsoRead: Indian cricketer Manish Pandey all set to tie knot with this Tollywood actress
AlsoRead: Garbage cafe in Chhattisgarh to provide food in exchange for plastic waste
However, villagers have claimed that a similar skin was found in the area six months ago, which led to the construction of a sanctum to offer prayers to it. The clip of that incident had also gone viral on social media.
"Villagers thought the place has special powers and built a temple here. Now, the snake skin has appeared near the temple itself," a local, Prashanth MN, said to Times Of India.
As per Vijay Karnataka, the seven headed snake's skin was found in the field of a man named Balappa, which was 10 feet far from the temple.
Many instances of seeing a seven headed snake have been reported but non of them have been proven true. As per the website Snopes, polycephaly or having many heads is a case that animal may sometimes display.