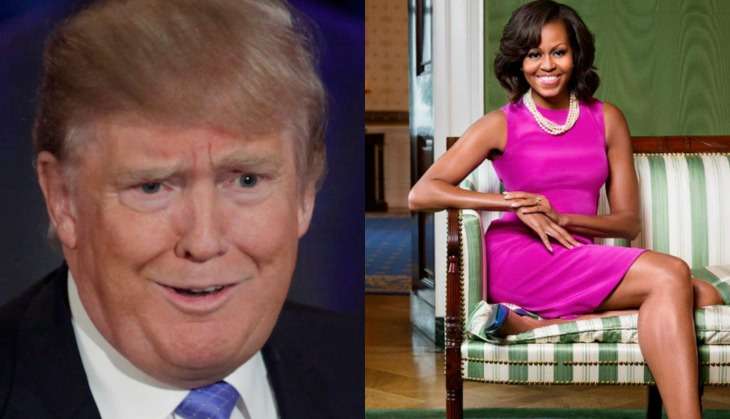 Unlike her husband, the First Lady of the United States of America, Michelle Obama doesn't need to literally drop the mic. All her speeches feel like one. At City College of New York (CCNY), US President Barack Obama's wife and FLOTUS extraordinaire Michelle addressed the graduating students with a speech good enough to frame and send to Donald Trump with a dozen thorny roses. Because, OUCH.
GOP candidate and presumptive presidential nominee Donald Trump's solution to America's problems is to build walls, throw immigrants out and get Muslims to carry an 'identity card'. Never before has a man so completely devoid of empathy, leadership skills or intelligence run the race to become the next POTUS, and it is likely that this feat will never again be repeated.
Michelle did not 'attack' Trump the way most of his detractors do. There were no jokes about his fraud cases, about his manner of addressing his supporters and critics, no shade at how little he understands the workings of diplomacy, or harmony, or peace. Nope, there was none of that.
There was but the strongest condemnation of his proposed changes to 'Make America Great Again'. Uttered in a mortified tone - a voice that spoke as an 'outsider' as well as someone who loves the country as her own. Talking about the diversity in the country, she said:
"It's the story that I witness every single day when I wake up in a house that was built by slaves. And I watch my daughters, two beautiful black young women, head off to school, waving goodbye to their father, the president of the United States. The son of a man from Kenya who came here to America for the same reasons as many of you: to get an education and improve his prospects in life."
She spoke about the dangers of being divisive, of deriding people from other cultures, of hate speeches, of building walls. She said:
"We don't build up walls to keep people out, because we know that our greatness has always depended on contributions from people who were born elsewhere but sought out this country and made it their home."
And in doing this, Michelle has ensured that people listen. Because what jokes cannot do, a heartfelt speech always can.
Watch the full speech here:
--
Edited by Abha Srivastava