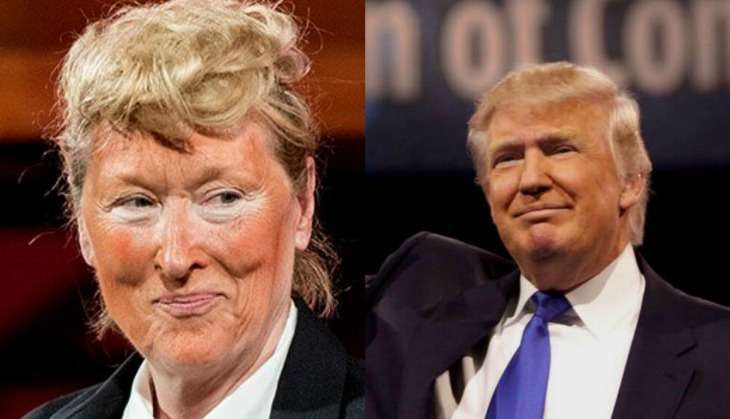 It is a universally known fact that three-time Academy Award winner Meryl Streep is yet to do a role that she hasn't mastered and made it her own. This time, the role was Orangeface aka Donald Trump, and, needless to say, this too has been conquered.
Streep donned a straw-like hairdo, spray tan, a prosthetic potbelly and Trump's trademark mannerisms to enact the part.
The stage was set at the Shakespeare fest at Park Public Theatre Gala which traditionally invites male actors on stage who recite lines borrowed from the Bard to teach the audience how to 'woo women'. Joining Streep on stage was The Good Wife's Christine Baranski who played dress up as Hillary Clinton while Meryl played her opponent in the race to become the next President of the United States of America - Drumph Trump.
The enactment was in keeping with the news of Hillary beating Bernie Sanders to become the Democrats nominee for Pres. Singing 'Brush Up Your Shakespeare' from the musical 'Kiss Me, Kate', the duo changed the context by making it about how to woo female voters.
While the entire video footage of what went down isn't available on the internet yet, whatever snippets are - make for an excellent read.
Sample these, sung in a Trump-like voice:
'We could do a deal - you'll let me know - why it is all the women say no?'
'If she says your behavior is heinous, kick her right in the Coriolanus!'
Now with the race down to just Trump and Hillary Clinton, it is safe to say that the danger of the former becoming to next POTUS is that much more real. Several celebrities have openly come out in support of Hillary in recent times and Meryl Streep is one of them.
Not that anybody's complaining. Expect perhaps for Trump and Trumpsters.
Meryl Streep just added Donald Trump to her resume at the Public Theater Gala pic.twitter.com/5ftmcKbRjN

— Jacob Bernstein (@BernsteinJacob) June 7, 2016
More of Meryl and Christine Baranski doing Trump and HRC pic.twitter.com/t7jgNsf74d

— Jacob Bernstein (@BernsteinJacob) June 7, 2016
Meryl Streep plays Donald Trump & Christine Baranski plays Hillary Clinton at the Shakespeare in the Park Gala. pic.twitter.com/Jv7kb1ctow

— Sam Kalidi (@samkalidi) June 8, 2016
WATCH: #MerylStreep has packed on the fake tan and donned a wig to perform as @realDonaldTrump #TenNewshttps://t.co/aXKkX0Yh1O

— TEN Eyewitness News (@channeltennews) June 8, 2016
Meryl Streep wins everything. pic.twitter.com/k097xNuTse

— Cheyenne Jackson (@cheyennejackson) June 8, 2016
Meryl Streep mocking Trump last night. She gets cooler every year. pic.twitter.com/A9hjvobYUC

— (((Jason Narducy))) (@SplitSingleband) June 7, 2016
--
Edited by Aishwarya Yerra