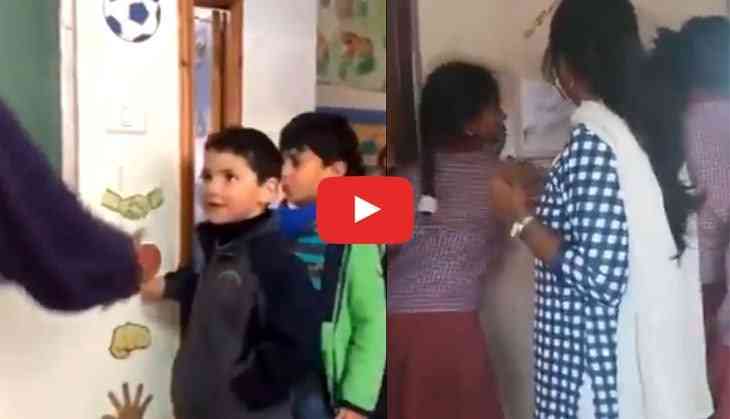 A heartwarming video is doing the round on the social media platform in which the gesture of Telangana school principal has become a talk of the town.
In the viral video, the school principal can be seen giving hug and doing a handshake with students before morning classes.
As per the reports, the school principal got this motivation from a YouTube video, in which a teacher greets primary school students in the same manner.
See video:
This teacher in Palestine lets the children choose their greeting at the start of the school day. These children live in such dire, oppressive conditions which most of us will thankfully never experience, but their smiling little faces are heart warming. pic.twitter.com/RakPruc9oO

— Rachael Swindon (@Rachael_Swindon) April 26, 2019
Let us tell you more about school principal, her name is S Rupa, a principal of Telangana Social Welfare Residential School/Junior College (Girls) at Addaguduru in Yadadri-Bhongir district.
After seeing the video on YouTube which was from Palestine's school, she decided to try the same thing at summer camp.
Hence, Rupa also greeted her students from backward sections of society either by a handshake, huge high five, a hug or a fist bump.
Also, she took the printout of the same gesture, so that students could see it.
Well, it was surprised for the students as they were not aware of such activity held by their Principal.
After seeing the viral of the Palestine teacher uniquely greeting students, Principal of TSWREIS, Addaaguduru, Rupa tried the same. The experience was 'emotional', she said to me. TSREIS schools across are replicating this. pic.twitter.com/qLvhN44HcB

— Bala (@naartthigan) May 10, 2019
However, students were asked to select the signs which they want to do.
Rupa also told to PTI, "We asked them to select any. We did not tell them what it is. We were doing it as a surprise for them. They felt happy and some children wanted all four."
Well, her thoughtful gesture has won the hearts of her seniors too, who have now decided to follow the same practice in all schools, but, not for every day.
Also read: Video: Watch how a school principal greets her students before morning classes; her gesture will make your day!