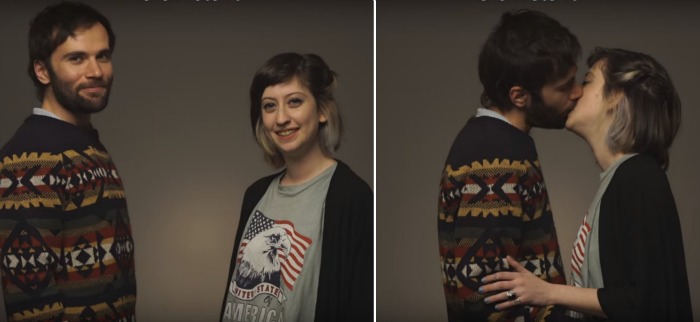 When Israeli government decided to remove Dorit Rabinyan's book, Borderline, from school curriculum, they probably didn't expect the response to be a video of couples kissing. The love story between a Palestinian Muslim and an Israeli Jew didn't go down well with the conservative, right-wing minister of education. So, to counter this act of senseless censorship, TimeOut Tel Aviv made a video of Jews and Arabs kissing each other.
How'd ya like that now, Israeli Ministry of Education?
The video, which appeared the magazine's website on Thursday, seems to have borrowed the idea from the 2014 First Kiss project, where the video's producer, Tatia Pilieva asked strangers to kiss.
In this video there are six couples of varied sexual preferences, some friends, some who've met for the first time. The video is awkward. It's beautiful.
It also reinforces that at first glance there is very little that differentiates Palestinians from the Israeli.
The video was posted on TimeOut's Facebook page and had over one lakh views but the video was soon taken down. According to Mashable, the magazine shifted the onus on Facebook, while Facebook denied ever it taking down. The video was shared on TO's page again and has 64K views and 531 shares.
The Haaretz, an Israeli newspaper reports that the Ministry of Education decided to take the novel out of the school curriculum as they wanted to protect the 'identity and heritage of students in every sector'; and according to them the novel's 'intimate relations between Jews and non-Jews threatens separate identity.'
The only thing that this video threatens is an attack of sudden 'aaaws'.
Watch: