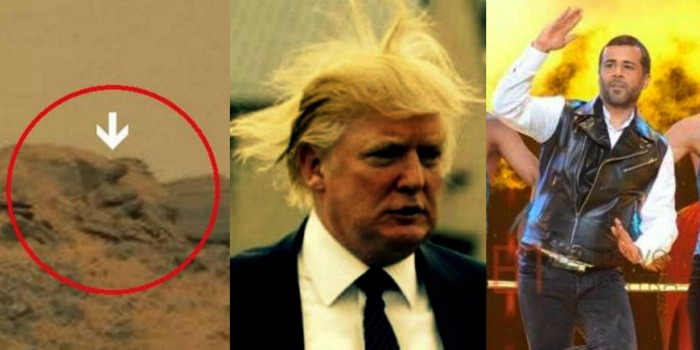 Our favourite part of 2015 is here - 'the year was' run of days. We loved 2015, like we hated it. From the bans to the numerous oh-my-God statements, from strange trends to downright silly ones, 2015 has been one hell of a ride.
So let's see which ones really made our jaws drop this year.
1. It was the year of UFO hunters.
Time and again, alien enthusiasts have found 'proof' of extraterrestrial life, but in 2015, they also found proof of their religion.
#MarsBuddha was a trend most are not likely to live to regret. The statue was 'discovered' in NASA-released images, which proves that what scientists cannot find, jobless YouTube evangelists most certainly can.
2. Novelist and newly appointed twinkle-toes, Chetan Bhagat spoke altogether too much in 2015.
This year we learned that Chetan neither knows what historians do, nor does he own even an iota of what could have been broadly called a sense of humour.
What did he do? Chetan sent out a tweet to his 5.81 million followers that said: "What do historians do? I am genuinely curious. This happened. Then this happened. Then this. Ok work done for the day."
#kthnxbye #WhatAreTheyTeachingInIIT
3. Donald Trump spoke again and again and again till he proved that nobody can beat him at stupidity.
Once synonymous with terrible TV shows and a Johnny Bravo-meets-blonde-candyfloss haircut, the name Trump now only brings terrible quotable quotes to mind.
4. This ad by The Great Khali is simultaneously hilarious, ridiculous and fantastic.
At 7'1, this former WWE Heavy Weight Champion is known more for forcing opponents to rethink their career choices than tickling the funny bone. But the wrestler clearly has more to him than just memorable wins inside the ring.
5. But the year belonged to PIB's Photoshopping skills.
During the Chennai floods, the entire country watched in horror as life in the city was literally swept off its feet. The "nodal agency for communicating to media on behalf of the government and India", the PIB in the meantime was apparently busy with Photoshop. They tweeted out a picture of PM Modi looking out of a helicopter while conducting an aerial survey of rain hit Tamil Nadu. Sadly, for them the world was quick to catch on to the shoddy editing.