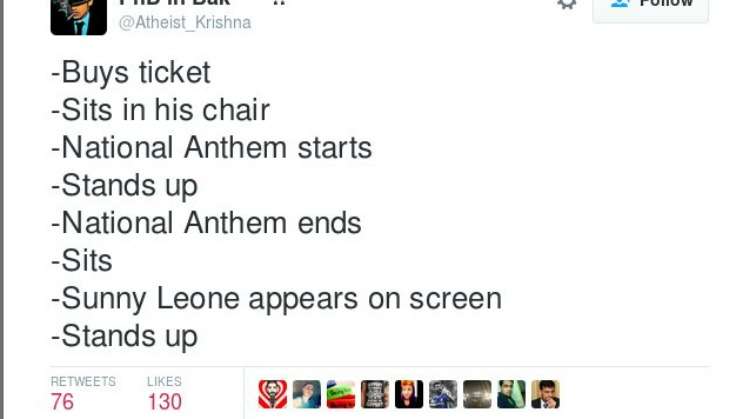 Today has been a strange, strange day.
The highest judiciary body in the country has ruled in favour of the National Anthem being compulsorily played before every film in theatres. The apex court has also made it mandatory for movie patrons to stand for the duration of the anthem.
The judges ruled: "When the national anthem is played it is imperative for everyone to show honour and respect. It would instill a sense of committed patriotism and nationalism. Time has come that people must feel and show respect to the national anthem, the symbol of constitutional patriotism."
While forcing people to stand up will, in no way, leave them with the burning zeal of patriotism, the ruling may be more dangerous than you think.
The court has also ruled that theatre exits will be closed until the anthem is over. A few hundred people stuck inside a closed enclosure with no quick escape route during an emergency doesn't sound too patriotic now, does it?
Also Read: National Anthem must be played in theatres before screening of films: Supreme Court

Either way, Twitter has managed to highlight the flaws which Supreme Court seemed to overlook in this brilliant plan to make the anthem compulsory before movie screenings. Take a look:
Year 2020 : Add a national anthem slide at the beginning of your work PowerPoint presentations. - SC

— Pakchikpak Raja Babu (@HaramiParindey) November 30, 2016
There should be a national anthem file attached in all movie torrents: SC

— dorku (@Dorkstar) November 30, 2016
If the PVR near my house doesn't play the National Anthem, I'll just stand up during the Gutkha Mukesh ad. Woh siraf chaubees saal ka tha.

— Akshar (@AksharPathak) November 30, 2016
National Anthem to be played before every Youtube video, if you Skip Ad, police arrives and confiscates your laptop.

— Gabbbar (@GabbbarSingh) November 30, 2016
Great move by Supreme Court to make National Anthem mandatory in cinemas. This way the watch time for my movies will go up by at least 80%.

— Abhishek Bachchan (@juniorbacchhan) November 30, 2016
Playing National Anthem before movies likes Mastizaade & Kya Kool Hain Hum is total insult to our National Anthem.

— PhD in Bak*****!! (@Atheist_Krishna) November 30, 2016
Don't disturb supreme court judges with small issues like corruption,rape and murder they are busy playing National anthem in Cinemas.

— Mulayam Singh Yadav (@AndColorPockeT) November 30, 2016
is this india's entry to mannequin challenge

— k (@krazyfrog) November 30, 2016
"aur Border movie toh khade hoke hi dekhni hai"- Supreme Court added

— no (@Sarcusstic) November 30, 2016
SC orders everyone to stand when national anthem is played before movies. If you don't stand, people will make sure you can't stand.

— Hasna Zaroori Hai (@HasnaZarooriHai) November 30, 2016
-Buys ticket
-Sits in his chair
-National Anthem starts
-Stands up
-National Anthem ends
-Sits
-Sunny Leone appears on screen
-Stands up

— PhD in Bak*****!! (@Atheist_Krishna) November 30, 2016
Why just theatres? National Anthem must be made compulsory at all places of leisure activities. Even at restaurants before beginning to eat.

— Shirish Kunder (@ShirishKunder) November 30, 2016
*National anthem plays*
SO PROUD OF COUNTRY I ❤️ IT
*4 hours later, Mohenjo Daro ends*
Kya stupid desh hai bc aise logo ko paisa milta hai

— Rohan (@mojorojo) November 30, 2016
Jokes about serpentine ATM queues also found their way:
MNREGA workers standing in queue at "Dena Bank" to withraw cash while national anthem being played to make them feel patriotic.(2016) pic.twitter.com/L9DnHBgUj0

— History of India (@RealHistoryPic) November 30, 2016
ATMs should play the national anthem so people know that cash has arrived.

— archit sharotri (@architenator) November 30, 2016
If you sing the National Anthem three times in front of a mirror, Modiji appears and gives you a 100 rupee note.

— Anuya (@anuyeaah) November 30, 2016
Instead of cinema halls, national anthem should be played at ATMs...marzi ho na ho sabko khada rehna padega 😸

— Rofl Gandhi (@RoflGandhi_) November 30, 2016
The #NationalAnthem should play every time an ATM runs out of cash.

— Absinthe Minded (@MinstrelofSound) November 30, 2016
You can stand in the queue to take money why can't you stand up during the national anthem #NationalAnthem #SC

— Jasoos Kutty (@JasoosKutty) November 30, 2016
Even the evergreen Vicco Vajradanti adverts weren't spared:
I always thought "Vicco Turmeric, nahi cosmetic" was our national anthem which is why it played before every movie.

— Aditi Mittal (@awryaditi) November 30, 2016
Now that the issue of National Anthem is sorted

What is SC doing about those god awful Vicco Ads ??#jussayin

— The Original Pujari (@srtrocks) November 30, 2016
I am fine with National Anthem but Supreme Court should definitely ask for the removal of Vicco Bajradanti ads #NationalAnthem

— Piyush Sharma (@chaipilado) November 30, 2016