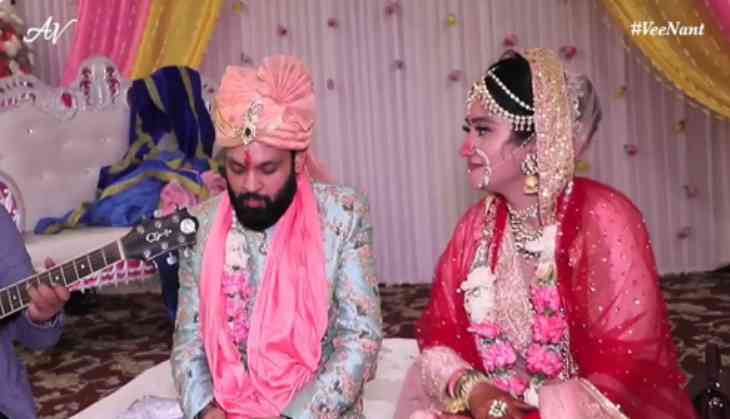 A video of Mumbai's newlywed couple is doing the round on the social media which has won the heart of millions of Internet users.
The video went viral on WhatsApp after it was shared by Anant on Twitter.
Till now, the video has garnered over thousands of likes and retweets.
In the viral video, the newlywed couple can be heard singing the famous song of Jagjit Singh and Chitra Singh, Kothe Te Aa.
However, they have sung the song in their own version.
The groom himself shared the video on Twitter and captioned, 'My lovely wife, @veenaparasher and me, singing on our Wedding. We want to thank all of you for the love, blessings, and messages that we had been receiving since yesterday after our video has been shared on Social Media/Whatsapp. As requested, Sharing the original full Video here.'
He also revealed that the lyrics of the song were written by him for the parents of the bride.
Isn't sound interesting!
Well, you will be more amused when you will all hear the song sung by them.
Let's have a look:
However, video has created a lot of stir on the micro-blogging site and Twitterati are showering their good wishes for the newlywed couple.
Check out some reactions of Netizens:
Got this video as a whatsapp message this morning from an Uncle in the US (Washington DC). Sent it to 78 year old Dad in Delhi and he liked it so much , he has forwarded it to al his friends !!

— Popa (@HaraaIndia) April 21, 2019
That is just awesome, incredibly sweet, and very funny. Stay blessed, both!

— Gul Bukhari (@GulBukhari) April 22, 2019
Congratulations. Been watching it many times. It is beautiful. Made me shed a tear 😊

— Pankaj Sachdeva (@sachdeva_pankaj) April 22, 2019
Congratulations !
Wishing both of you a very happy married life !!

बहुत ही प्यारी जोड़ी है आप दोनों की....
ईश्वर ये साथ सदा बनाए रखें...

एक तो @veenaparasher के सुरीला तराना कम न था उसपे @anantmt का शर्माना गजब ढ़ा गया.....👌😂 https://t.co/O8e7tkwRBz

— Chowkidar 🌠Kiran Singh किरन 😍 🇮🇳 (@007kiran_) April 22, 2019
Didn't understand it all, but I had a smile from the beginning till end of the video. This is so lovely.
(Now this maybe copied in the next Rajshri productions marriage movie)!

— 🎸𝓖𝓾𝓲𝓽𝓪𝓻 𝓑𝓸𝓵𝓵𝔂𝔀𝓸𝓸𝓭 (@GuitarBollywood) April 21, 2019
Baki sab theek Tha par the way groom is sitting with jhuki jhuki nazar phone dekhne de waaste, laag riya bride se sarma ke baitha hai yaa sahma sahma Darr ke baitha hai ( maano galat perform kiya toh pitai ghar par) 😂 Patniyon se dare sahme patiyon ka sundar sajeewa chitran🤣

— चन्नी_चाची (@ajoxploring) April 21, 2019
Absolutely love the trend. Hazaar times better than the cringeworthy bollywood performances by a motley bunch of jaded relatives. This is classier than Ambani weddings. You lucky bloke - that wife of yours is gorgeous- I think am a bit in love with her too - and am straight.🤗

— cassienewthorpe (@_bomb_sugar_) April 22, 2019
Wow.....❤️
Beautiful....❤️
Wishing both of you a blissful married life..........❤️
Par aap itna sharma kyon rahe hain. 😛

— Indu Jha 🇮🇳 (@indu_00) April 22, 2019
Congratulations guys !!! By the way I want to know the original song the bride singing

— Srivatsa Haridas (@srivatsahg) April 22, 2019
Also read: Watch the swag of Indian bride who enters wedding venue by sitting on Jeep's bonnet with her baraat; here's the viral video