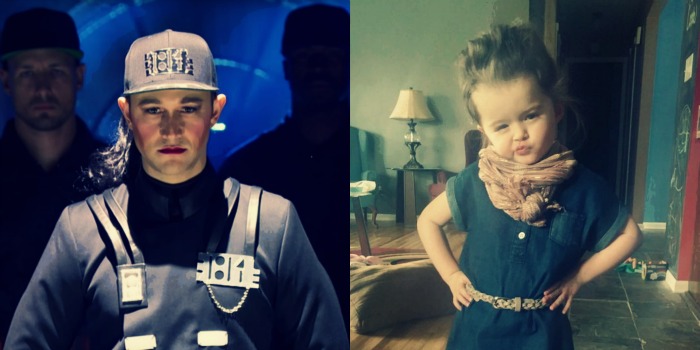 It is an universally accepted truth that 2015 has been a strange year. We've seen runaway Llamas, reindeer, rats and whathaveyounots. We've seen dresses go viral. We've seen condom challenges go viral. Can we go any lower? Nope. We most definitely cannot. 2016, whatever you do, you'll still do better than 2015. We hope.
In the cesspool of all that went viral, here are the five videos we thought were amazing and weird. Amazingly weird, we mean:
1. Shake it off, officer.
There's no police officer on this planet more excited by Taylor Swift. And there is no cop who dances to Shake it Off better than he does. Haters gonna hate, good sir. Shake it off and continue dancing.
2. Pizza rat
The rat who loves pizza channeled everybody on the planet as a video of it emerged hurrying away with a slice. Can you not feel the love? Of course, you can. Pizza is love and this video is everything.
3. Hotline Bling
This isn't your run-of-the-mill citizen video, of course. But Drake's music video, Hotline Bling deserves a place in this list for being so absolutely bizarre, it does more that - it hypnotises you with its shady jhaadu-basketball-dribbling dance moves. I mean, what is that? So crazy. So bad, that is most certainly is brilliant.
4. Baby Adele
Adele has a lot of fans. Obviously. But the singer, whose main purpose in life is to give purpose to lost Romeos, probably did not expect a fan in toddlers. Hello, Adele's latest from her new album 25, has sent shockwaves to the core of the planet, with the echoes of her songs being heard wherever we go.
'Hello, from the other side', isn't just lyrics anymore. It is life as we now know it. When we say Hello now, the echo answers back.
There are covers however, and then there is three-year-old Kimber Green's rendition. Her video has been viewed over nine million times since it was uploaded on Facebook, just in case you thought it shouldn't make it to this list.
You go baby Adele. We think you're amazing.
5. Gordon Janet Jackson
We all know Joseph Gordon-Levitt is awesomesauce. We also know that he can dance like a dream. In an episode of Spike's Lip Sync Battle, Joseph danced to Janet's 'Rhythm Nation' in full make-up and costume. As if we needed more reasons to love him.
You might want to sit down, get a tub of popcorn, pour a glass of wine and then watch this: