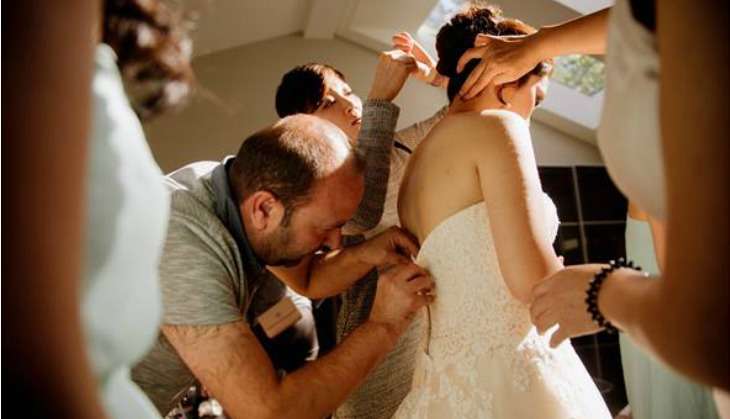 Trigger warning: This may make you cry.
On Monday, wedding photographer Lindsay Coulter, who runs a fairly popular Facebook photography page, shared a photo that has gone viral for all the right reasons.
Jo Du, who lives in Ontario, was getting ready to walk down the aisle when her gorgeous wedding dress came undone. The zipper at the back had disintergrated and try as the bridesmaids might, they couldn't salvage it.
Recalling the incident, Lindsay writes that although the women were doing their best to fix the zipper, nothing was working out. The wedding was taking place at a rented house and Lindsay suggested that the bridesmaids ask the neighbour for help. The enterprising bridesmaid who went over, came back with not only a pair of pliers but also the information that the neighbours were hosting a Syrian family who had roots in tailoring.
Minutes later, the neighbour, the Syrian master tailor and his son arrived to help of their own accord. He couldn't communicate as he didn't know the language, but he fixed Jo's dress without any ado.
Lindsay writes:
"Every weekend I take photos of people on the happiest days of their lives, and today one man who has seen some of the worst things our world has to offer came to the rescue.
I am so proud to live in Canada, a country who has opened our doors to refugees countless times. I'm in awe of the families who have welcomed these strangers in to their homes and lives, and I'm inspired by the resilience of the Syrian people. We are truly blessed."