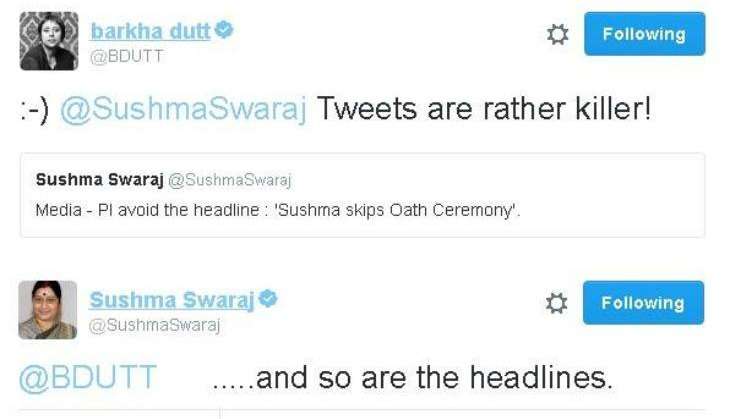 Disclaimer: This is an appreciation post for the artist that is our Minister of External Affairs, Sushma Swaraj, when it comes to Twitter. So if your political ideology stops you from experiencing the finer aspects of life, you might want to leave now.
--
It is a truth universally acknowledged that if there is one thing Prime Minister Narendra Modi's ministers excel at, it is their social media game. Almost as if they were trained to be so. But training is one thing, natural unbridled, wit and sass is another. And, heaven and hell would agree that our honourable Minister of External Affairs needs to be crowned as the undisputed Yaas Queen of Sass since she pulled off this epic move this morning.
Unable to attend the oath-taking ceremony of PM Modi's first cabinet reshuffle in two years, the minister tweeted this out.
I am unable to attend the swearing in ceremony in Rashtrapati Bhawan since I have a meeting with Foreign Minister of Hungary. /1

— Sushma Swaraj (@SushmaSwaraj) July 5, 2016
Media - Pl avoid the headline : 'Sushma skips Oath Ceremony'.

— Sushma Swaraj (@SushmaSwaraj) July 5, 2016
Her fans loved it, her detractors loved it, even the media towards whom this A-grade shade was aimed at loved it. Complimenting the minister, journalist Barkha Dutt tweeted this.
:-) @SushmaSwaraj Tweets are rather killer! https://t.co/olTtS3j6GA

— barkha dutt (@BDUTT) July 5, 2016
The reply she received in return - though aimed at media in general - probably caused a Grade A burn.
@BDUTT .....and so are the headlines.

— Sushma Swaraj (@SushmaSwaraj) July 5, 2016
It is no wonder why she is the world's most followed female political leader with over 5.34 million followers. Just for kicks, here are four other times Sushma Swaraj proved she's the real MVP:
Her reply to this man who confused ' Min of External Affairs' with Customer Care
Brother I cannot help you in matters of a Refrigerator. I am very busy with human beings in distress. https://t.co/cpC5cWBPcz

— Sushma Swaraj (@SushmaSwaraj) June 13, 2016
When she proved she is literally #WorkGoals
No. I believe a Minister for External affairs should not speak on domestic issues. https://t.co/6365xcGtdh

— Sushma Swaraj (@SushmaSwaraj) May 28, 2016
When she proved nothing comes free in life
@Abhinav_Bindra We will do our best to help you. But you promise a Gold medal for India in Olympics. @AmbGurjitSingh

— Sushma Swaraj (@SushmaSwaraj) April 9, 2016
When she predicted and prevented a possible troll attack
I called on Prime Minister of Pakistan. This was not a bilateral meeting which has flags of both countries. pic.twitter.com/mCeqc7lHKt

— Sushma Swaraj (@SushmaSwaraj) December 11, 2015
--
Edited by Aishwarya Yerra