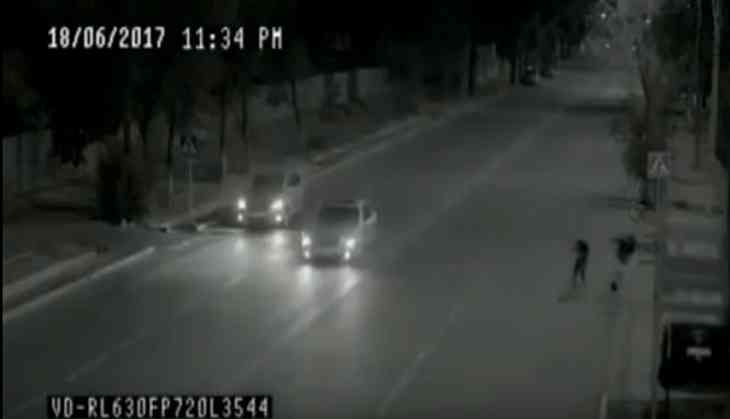 Ever wondered if superhero or vampires exist? There has not been any instance that has proven if they exist or not but few incidents caught on the CCTV camera freak us out and send shivers down our spine.
A video that is going viral on the internet these days shows how a girl was saved by a man who came in flashing speed and saved her in nano-second and later disappeared. In the video, a girl tries to cross the road and suddenly two cars come in speed. She saves herself from getting hit from the first car but as soon as she moves forward, the second car comes and as soon as it was going to hit her, a man who came with a flashing speed like that of Flash, the DC Comics superhero and what he did caught eyeballs.
ALSO READ: Haunted School Alert! Ghostly moments captured on CCTV camera will send shivers down your spine
The speedy man picks the girl and takes her at the side of the road at a flashing speed and saved her life. The happening, as per the video, shocks the girl, who was seen sitting at the corner of the road. Not only her, but the car's driver too was shocked to see that.
Check the video out:
ALSO READ: Horror alert! 10 spooky movies that will not let you sleep at night
Well, we are still not sure if their clip and the incident both are true or not. Weather the clip is fake or not, but the video surely caught our attention and freaked us out.