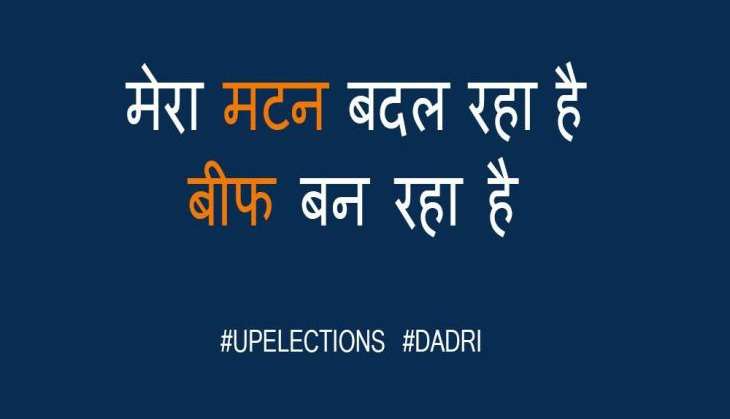 Elections aren't just a battleground for political parties. It is a universally-known but less-acknowledged fact that a state in pre-election mode also experiences several jaw-dropping miracles. This is the crux of Twitter's current dilemma. While one half of Twitter cannot even with the latest update about the horrific Dadri lynching case, the other half wants to know the secret behind the miracle. (PS: Uttar Pradesh goes into polls in 2017).
For those unaware of the details of this case - which at this point can only be blamed on willful ignorance, general stupidity or downright denial - here is the gist:
In September 2015, 50-year-old Mohammad Akhlaq was dragged out of his house by a mob in Uttar Pradesh's Dadri. He was lynched for consuming and storing what was "rumoured to be beef".
What followed was nationwide outrage over the fact that a man had to sacrifice his life over food.
According to reports, samples were taken not from his house, but from the tripoint near Akhlaq's house and sent for testing. The police later declared that the meat in question was mutton and not beef.
This was eight months ago. On 31 May 2016, it was 'revealed' that according to the hand-written forensic reports from UP government's lab in Mathura, the meat was of "a cow or its progeny".
Uttar Pradesh police chief Javed Ahmed told NDTV, "Initially we did say mutton but subsequently we were told by the lab that it was beef." #DeshBadalRahaHai
So we're still discussing the meat, not the man? This is the backdrop of the story now unfolding on social media: the story of a Mystique-like mutant mutton that turns into beef when preserved for seven to eight months.
Since taking offense is a national hobby now, here is a fun clarification: for those of you who do not have a sarcasm radar, please note that this thread is not mocking the incident, but only the ridiculousness of goat meat magically turning into beef.
Maybe it was beef AND mutton, just like Modi has and does not have a degree? Welcome to Schrodinger's India pic.twitter.com/aNMI6Jajjp

— IndiaExplained (@IndiaExplained) May 31, 2016
Dear Indian forensic,
I have some mutton in the fridge. Craving some good beef steak instead. What is the application process like?
thx

— amrita madhukalya (@visually_kei) May 31, 2016
Mutton turned into beef...Wow that was magical 😂😂😂 it can happen only in India or this is #MakeInIndia? 😲

— Shabbir Ahmed (@Ahmedshabbir20) May 31, 2016
Scientific breakthrough! If you keep mutton in forensic lab for 7 months, it becomes beef! https://t.co/CMpWZq6MwI

— Shirish Kunder (@ShirishKunder) May 31, 2016
Best invention of 2016 : keep mutton in a fridge for 7 months, it becomes beef.

— ASHUTOSH MISHRA (@ashu3page) June 1, 2016
#BREAKING | Main accused's father Sanjay Rana to register a case against Mohd Akhlaq's family for cow slaughter pic.twitter.com/ZeKUp4bi7V

— News18 (@CNNnews18) June 1, 2016
Now we know why the mutton turned to beef! Inhumane to the core. https://t.co/hFh2nu0itQ

— Bellatrix Rosie (@yumjaoleima) June 1, 2016
Don't let lies of 'secular' netas & intellectuals push you to take a position that justifies lynching of a man. Beef or no beef. #Dadri

— Abhijit Majumder (@abhijitmajumder) May 31, 2016
If you keep mutton in lab for few months that turns to be beef for elections 😂 #Dadri

— QueenBee ♕ (@vaidehisachin) June 1, 2016
Hindutva's law of change: If you keep testing goat meat for six months eventually it will test positive for beef.

— Alt-Brumby (@brumbyOz) May 31, 2016
If I keep mutton in my freezer for 8 months, will it turn into beef? Or does that only happen at UP crime labs. https://t.co/8JE3CC4upR

— Raghu Karnad (@rkarnad) May 31, 2016
--
Edited by Blassy Boben