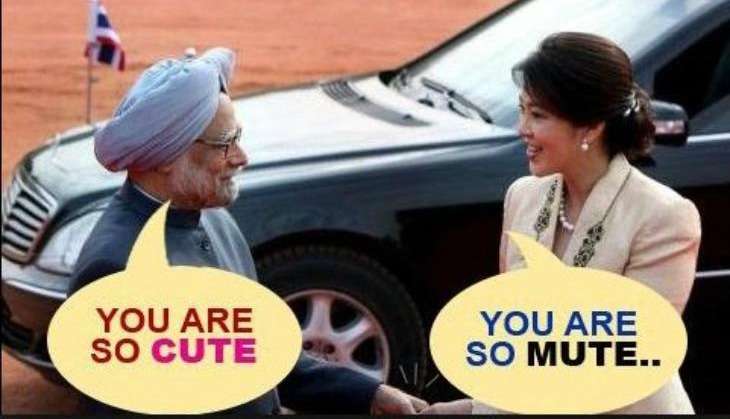 Once the film on Sanjaya Baru's The Accidental Prime Minister: the Making and Unmaking of Manmohan Singh releases, it is bound to raise hackles. For now however, it is tickling Twitter's funny bone.
Reports of a film being produced on Baru's bestselling book on Dr Manmohan Singh first appeared in a leading daily yesterday. According to media reports, the casting is yet to be finalised but producer Sunil Bohra is confident that they will be able to release a teaser by August end.
The movie is supposed to be a 'true reflection' of the book by Baru which makes Twitter's suggestions of finally making Pushpak 2 seem realistic. Might we suggest Monica Belluci for Sonia's role and Naseeruddin Shah as Dr Manmohan Singh please? Kamal Hassan works as well, but not sure if he'd want to reprise his role as Pushpak again.
Twitter at least is enthusiastic about the idea, even if Congress-men probably aren't:
These trolls just want to watch the world burn
Bet The Accidental PM will be a silent movie. Also, all those outraging over Udta Panjab right now will be silent when this will be banned.

— Demon Chopda (@Chopdasaab) June 13, 2016
The Accidental PM #ManMaun Singh pic.twitter.com/WPNp95l2Xu

— Anit Ghosh (@Indianit07) June 13, 2016
Would love to see Kamal Haasan take over The Accidental PM and make it Pushpak - 2.

— Ashwin S Kumar (@ashwinskumar) June 13, 2016
"The Accidental PM" would be 1st colour silent movie :D

— Ashwini ™ (@aasshhwwiinniii) June 13, 2016
Indeed Manmohan was The Accidental PM . Wasnt a leader but a follower pic.twitter.com/rKWcWQPJiW

— Sanjay Verma (@sanjayxo) June 13, 2016
Accidental movie haters
The Accidental PM: The Manmohan years

The Mental PM: The Modi years

— Scotchy (@scotchism) June 13, 2016
Honestly, I'd rather be called The Accidental PM rather than The Riot Fueling PM ;-)

— Neha Shaji (@nehrwho) June 13, 2016
The Accidental PM - Manmohan SinghJi
The Genocidal PM - Modiji#JustSaying come at me bro, I mean bhakton :P

— MiSoHippie (@misohippie) June 13, 2016
--
Edited by Abha Srivastava