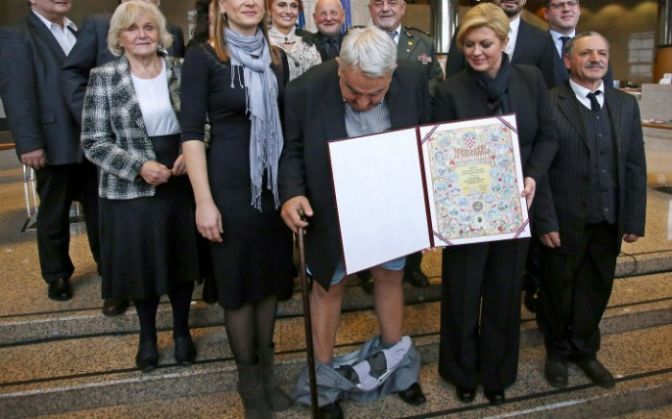 Gravity, thou art a pain in the buttock. And nobody can feel the truth of this statement more than the head of the Croatian Helsinki Committee for Human Rights, Ivan Zvonimir Cicak.
Ivan lost his pants while picking up an award from President Kolinda Grabar-Kitarovic.
The pictures that have now gone viral show Ivan standing beside Kolinda as she presents him with an award with his pants dropped to his ankles. Kolinda, who is gorgeous by the by, watches the whole incident, poker-faced.
Major envy happening at her monumental self-control.
In fact, kudos to (almost) everyone in the frame, since they don't seem to find it at all odd that their boss just lost his pants during a major award function.
Ivan and his team have been awarded for their outstanding work ahead of Human Rights Day, which is on December 10.
The photos are currently all the rage on Facebook and Twitter. Clearly one one man's tragedy, is another man's comedy.
And least anyone forgets, thumbs up to Ivan for taking all of this, with a smile. Whatte cutie.