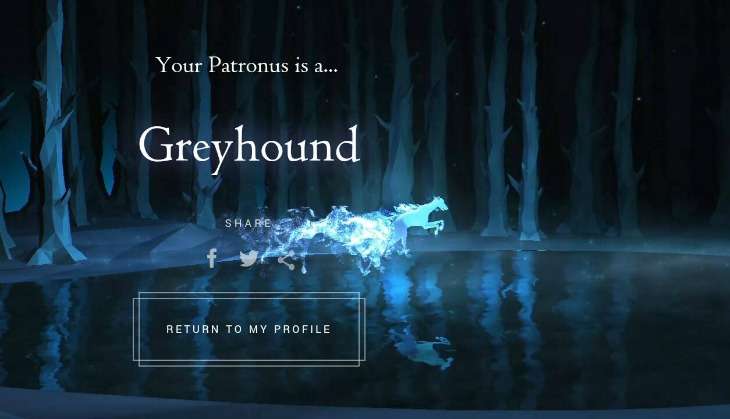 Everybody who is anybody probably knows by now that JK Rowling has gifted muggles with a Patronus finder on Pottermore.
Or should we say Pottermore 2.0, because if the previous website was the Marauder's Map, this one is Diagon Alley-level cool. JKR truly is the gift that just keeps on giving, isn't she?
Except when she allowed Jack Thorne to hijack our childhood, I've been mostly been down with everything she's ever had to say, write, and do. Because, queen.
Okay, 'enuf JKR-loving.
Thing to remember is, if you had an account on the previous Pottermore, good for you but that cannot unlock the gorgeous new website for you.
Here's what to do:
1) Click on https://my.pottermore.com/patronus
1.1) Don't panic. Oh. Wrong book.
2) Create new account. It only takes about 3 minutes and 20 blinks.
3) Answer the seemingly arbitrary questions
4) Don't think, rethink, mull, muse. Because that increases the number of questions. Answer asap.
5) Wait for the sorcery. Get your results. *Crie* because it is not a stag.
For those wondering, here's a rather helpful list of what these Patronuses stand for.
Evanna Lynch who played Luna Lovegood was deeply disappointed by her results, shared her dashed hopes on Twitter. As did JK Rowling, but TBH she doesn't really need a Patronus. She can probably protect her heron from the Dementors, if she wanted to. Dementors are scared of happy things, aren't they?
I don't geddit @pottermore...all of my happiest memories are spent in the presence of cats. Why oh why is my Patronus a SALMON?!😟😑 #Patronus

— Evanna Lynch (@Evy_Lynch) September 23, 2016
It's a heron :) https://t.co/MUZUYmRgZS

— J.K. Rowling (@jk_rowling) September 22, 2016
PS: I got a Greyhound because the universe is currently telling me to adopt a dog. What did you get?