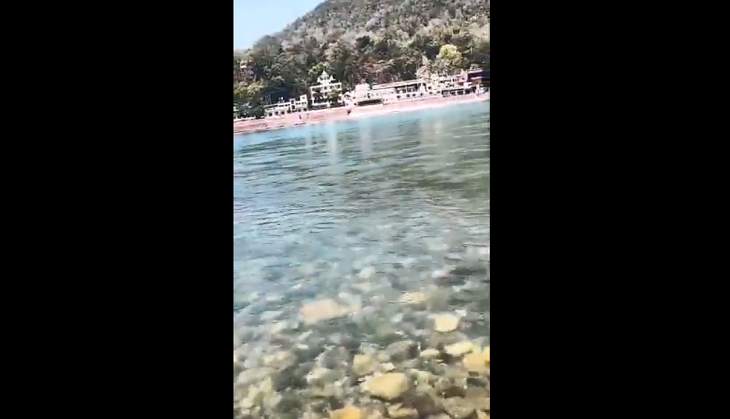 The unprecedented crisis like coronavirus pandemic has created havoc worldwide but the imposition of lockdown due the virus has given some positive impact on nature and environment. The proof of the aforesaid statement is the video that has been shared by an Indian Forest Service (IFS) officer on Twitter.
In the video, the river Ganga in Rishikesh can be seen so clear and transparent that it proved that nature is healing just because of the lockdown.
Earlier, several pictures and videos also showed how animals were roaming freely in cities and the clear sky too.
The video of Ganga was shared by IFS officer Susanta Nanda. He shared the clip with a caption that reads, "Ganga at Rishikesh, near the Lakshman Jhula on 24.04.2020. And all along we were searching for heaven..."
See video:
Ganga at Rishikesh, near the Lakshman jhoola on 24.04.2020.🙏
And all along we were searching for heaven.... pic.twitter.com/o6HzpNsFGC

— Susanta Nanda IFS (@susantananda3) April 26, 2020

The video has made netizens stunned and delighted too.
Check out how netizens reacted:
Nature has cleaned itself with great effort .. hoomans will destroy it again in no time .. 😩😩

— Jaisree C (@cjaisree) April 26, 2020
Sirf ek mahine mein itna khoobsurat change..:) aur ek mahine baad sab wapas waise hi ho jayega :(

— Sakshi (@sakshi_tweetz) April 26, 2020
Ganga ji at Varanasi, yesterday's Video pic.twitter.com/VGn4YS23X7

— Vijaya nath Mishra (@DefeatKorona) April 26, 2020
Thanos was right all along. We need a reset button for the planet.

— Smita🇮🇳 (@DikshitSmita) April 26, 2020
Sir The Gnages was never so polluted in Rishikesh.
True picture is Gutters and Sewers from Leather Industry and carrying domestic sewage still openly flows in Kanpur, Farrukhabad, Prayagraj & Varanasi.
Can take u to those sites if u want,
Namami Gange isn't helping

— Aviral Singh (@aviralrashtriya) April 26, 2020
The video has garnered over 379K views, 34.5k likes and 8.7k retweets on the micro-blogging site.
If you also have any such video which shows the positive impact of coronavirus on nature then share with us...
Also Read: IFS officer shares motivational video of two-legged dog crossing road; clip will inspire you!