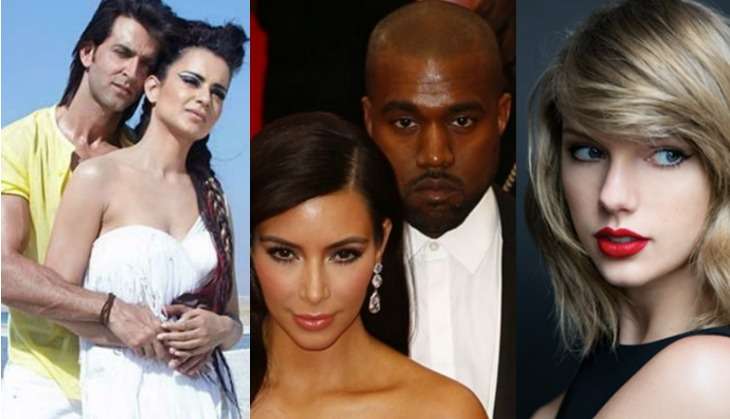 How much personal celebrity information is too much personal celebrity information; that is the question.
Celebrity gossip is the Midas that feeds the numbers. Nobody can deny that Salman Khan fighting with anyone in range, or Deepika-Sonam's icy comments about Ranbir-Katrina on Koffee With Karan, Shah Rukh Khan's alleged clandestine affair with Priyanka Chopra and the latter's fallout with his wife/friends et cetera - makes for popular reading.
We've dealt with our dose of over-garnished, melodramatic, gossipy spats that the paparazzi religiously followed. Many of us have even enjoyed it.
But nothing had prepared us for an A-list star taking to Twitter, exhibiting a) poor typing skills, b) humour so bad no one got it c) lack of common human decency. All just to take down a fellow colleague for a quip he believed she shouldn't have made.
When Kangana Ranaut's 'leaked mails' to Hrithik Roshan hit the papers or when old pictures - morphed or otherwise - of the two partying, did you feel like a line had been crossed and left so far behind, the line's now just a red-flagged neon blur?
Several more tweets, interviews, frenzied opeds, screenshots of leaked mails, photos, memes, jokes et al later, some of us were left exhausted, disappointed, amazed and in need of a whole lot of less information.
But this was before Kimye-Swift.
The story began when everybody's best friend Taylor Swift won an award at the 2009 VMA's, and Kanye West decided to hijack her moment to let everyone know that Beyonce deserved it more. Ouch.
The opinion that Kanye was wrong was anonymous. Kanye apologised. Everyone assumed it was over, till Kanye dropped an album, Life of Pablo, and the lyrics of his song Famous spread like wildfire.
"I feel like me and Taylor might still have sex / Why? I made that b*tch famous/ God damn / I made that b*tch famous..", goes the rap. After outrage at the low-grade lyrics hit the roof, Kanye explained (on Twitter) that Taylor knew about the song. That she had even given it her blessing.
A statement, Swift, or her lawyers denied. Are you exhausted yet? No? We are. If you want the full details, you can read them
here
,
here
and
here
.
A painfully, migraine-inducing, ludicrous story short - Kim Kardashian, a legit social media star if there ever was one, Snapchatted snippets of Taylor and Kanye's telephonic conversation (recorded without permission, apparently) where Tay clearly gives him a go-ahead. You'd think the story would end here, but no. Taylor responded to this move by saying on Instagram/Twitter that she hadn't been informed about the usage of the word, 'b*tch'.
So the world now stands on the precipice of being consumed by op-eds about #TeamKimye and op-eds about everybody's now former best friend Taylor Swift biting the proverbial dust.
Nobody seems to be pointed at the common thread apart from ego and idiocy that binds all of these celebrities: social media. In the age of Twitter, Instagram, Facebook and Snapchat is nothing really off the record? Is nothing out of bounds? Is nothing left unsaid, or let go of?
Is the need for publicity (good or bad), to exist and promote one's interest by people-pleasing, to further one's career by playing the victim card and to increase one's fan base on scripted PR work to become #goals, so great that it supersedes personal space - both theirs and ours?
So, again. How much information is too much information? Where do we draw a line? Who erased the previous one? And how do we get it back?
--
Edited by Aishwarya Yerra