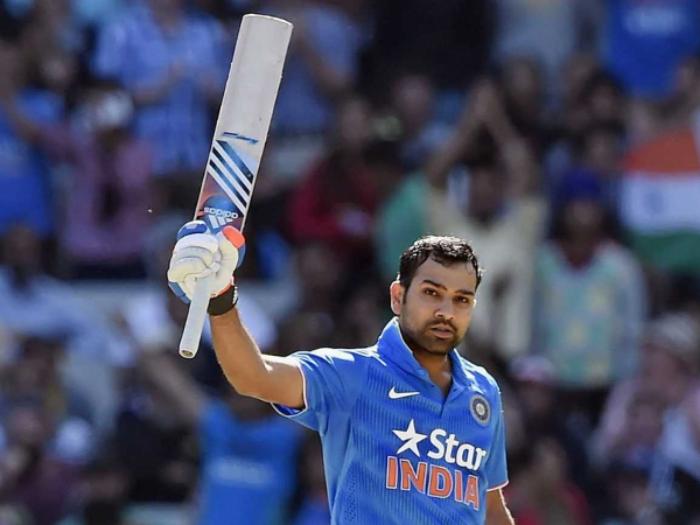 Rohit Sharma, the king of inconsistency, has won over Twitter this time. At the ongoing India vs Australia ODI in Perth, the cricketer scored an unbeaten 171 off 163 balls. The 28-year-old Indian opener kickstarted the five-match series with a bang, silencing his critics - at least for the time being.
Shikhar Dhawan
scored 9 off 22 balls, while Virat Kohli missed a ton by just 9 runs.
MS Dhoni
hit 18 off 13 run and Ravindra Jadeja was left to finish the game with Rohit, scoring 10 off 5 balls. India finished their batting at 309/3. Hitting 13 boundaries and seven sixes, Rohit looked like he was having the time of his life. This is the highest score by a cricketer in Australia against the Aussies. Rohit, with his 171 not out score, beat Sir Vivian Richards' unbeaten 153 in 1979. Twitter, of course, is celebrating Rohit's epic knock. Because who knows when they might see the man hit a century again.
#RohitSharma 's reply to his critics #IndvsAus pic.twitter.com/tQLs7jIbI4

- Gandalf the Poor (@TheDesiJedi) January 12, 2016
Congrats Rohit! Now you're done for the rest of the year.

- Karan Talwar (@BollywoodGandu) January 12, 2016
Had a strong feeling very early that #RohitSharma would get a 100 and he does, 122 balls👍 9th ODI century and 4th against Aus. #IndvsAus

- Kaushik LM (@Lmkmoviemaniac) January 12, 2016
Third hundred in four ODIs vs Australia for Rohit Sharma! His scores: 209, 138, 34 & 100*#AUSvIND #IndvsAus

- Rajneesh Gupta (@rgcricket) January 12, 2016
Only bad thing about Rohit Sharma's inning is that my parents will pressurize me more for marriage. Shaadi kar le kismat chamkegi #IndvsAus

- उमर अब्दुल्लाह (@abdullah_0mar) January 12, 2016
Rohit Sharma left only 838 runs short of Pranav Dhanawade.

- Trendulkar (@Trendulkar) January 12, 2016
Some days, Rohit Sharma bats at top speed.Some days, it's as if he hasn't even come out to play.Perfect brand ambassador for odd-even rule

- Ramesh Srivats (@rameshsrivats) January 12, 2016
Rohit Sharma's Talent Is Like Quantum Physics..Everyone Talks About It, But U Don't Understand It..😂😂#IndvsAus

- RajnikantV/sCIDJokes (@RVCJ_FB) January 12, 2016
Rohit Sharma is too aggressive in abroad. It's high time to send him to Pakistan as an SPY. #IndvsAus

- Chicken Biryani (@ChickenBiryanii) January 12, 2016
Can't tell exactly whose mockery Rohit Sharma is making primarily: a. Australian bowlingb.Critics Or c. WACA pitch.#IndVsAus

- Shree (@whyrus_) January 12, 2016
Rohit Sharma's last 6 ODI 100s have all been of 135+ runs: 137, 138, 141*, 150, 209, 264.Today? #IndvsAus

- Bharath Seervi (@SeerviBharath) January 12, 2016