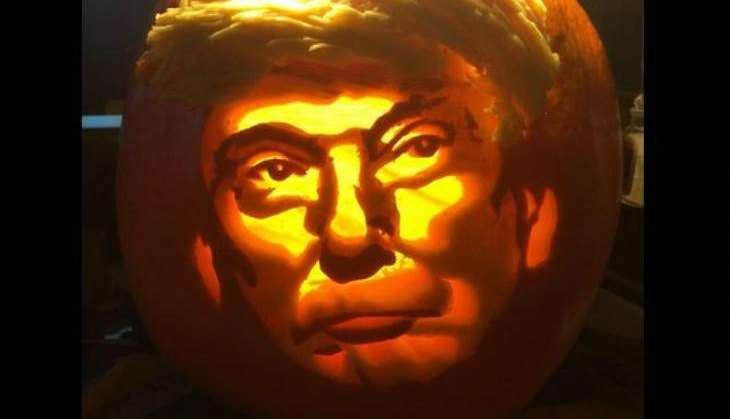 Lookie here, folks. If we really, truly have to explain the connection between a pumpkin, Halloween and the xenophobic orange plague consuming America right now, we cannot be friends anymore.
For the others, here's the latest lowdown on man-child Donald J Trump's adventures in the land of Uncle Sam. Halloween, as we know, is a beloved American festival where adults and kids dress up to scare the beejeesus out of their neighbours.
Naturally, the inimitable Halloween spirit and the decor that goes with it matches well with a certain Presidential GOP nominee. He's scary and orange too, you know.
The result? Trump pumpkins, or Trumpkins. Might we just add that the resemblance is uncanny.
As Bruno Mars put it, 'don't believe me just watch':
😂😂😂 #Trumpkin pumpkin 🎃 Orange on the outside, hollow on the inside. Scared 😱 #Trump 😈 #HalloweenHorror 🎃🕸🕷 pic.twitter.com/M40HfV1AiF

— ⚾️∀₦D③R⑤⊕₦⚾️ (@BL4CKSH33P_) October 17, 2016
@realDonaldTrump

This pumpkin is going to be Huuuuge!

#ThingsTrumpClaimsRigged#Trumppumpkin #MakeAmericaGreatAgain pic.twitter.com/yJ6pix4uB8

— ConservativeArtist (@ACourageCulture) October 17, 2016
Our office Trumpkin. I feel bad for the pumpkin having to be associated with Trump. #NeverTrump #ldnont pic.twitter.com/86WsXSwMju

— Roger Caranci (@RCaranci) October 17, 2016
I've just created a #Trumpkin hope you like it! Please retweet and make #Halloween great again! #pumpkin #Trump pic.twitter.com/Bo47UbaJpl

— JonARTon (@jonarton) October 17, 2016
Trumpkins: Make Halloween horrifying again: https://t.co/ZnutuiCW1v #trump #halloween #spooky #scary #pumpkin pic.twitter.com/0YY6nQP7fQ

— Selena Maranjian (@SelenaMaranjian) October 18, 2016
Welp, I saw my first #Trump pumpkin as I was driving to work today. It's a #Trumpkin. Decided to look it up. Yep. It's a thing. pic.twitter.com/gSVEVF8JQ0

— 1310 Ticket Radio (@TicketRadio) October 18, 2016
Close enough.#trump #TrumpPumpkin pic.twitter.com/0khFs4tCgX

— EmilyBaah🐑 (@EmilyBaah) October 22, 2016
My first carving effort of the season. Yes. it's Trumpkin. @realDonaldTrump #trump #pumpkin #Halloween #spooky #POTUS2016 @HillaryClinton pic.twitter.com/TaLKPbjftN

— Alex Cole-Hamilton (@agcolehamilton) October 24, 2016