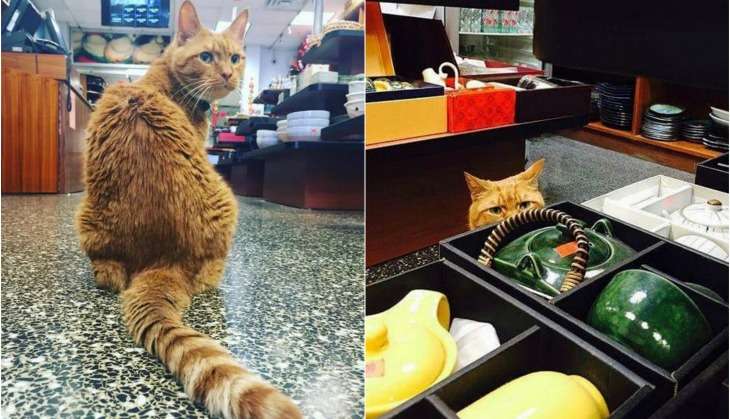 Run out of SLs and CLs? Well, meet the cat who's more dedicated than you are.
A hardworking ginger cat has been working at a store in New York for the last nine years without ever taking a day off. As a newborn kitten Bobo was brought to this store in Chinatown, New York, by an employee, and has lived here ever since.
Looked after by his new friends at the store, and a lawyer patron who had four cats of her own, Bobo's food and vet requirements were met regularly.
In 2014, the store hired a new girl, Annie, who has since become Bobo's full-time caregiver. "At the store, he likes to sit near the entrance and greet customers. He has his own scratcher lounge towards the front of the store and likes to sit there. He also likes to look out the window, a curious cat!" Annie said.
"Bobo's personality is calm and friendly. He is the only cat in the store. He's the king of the store!" she was quoted as saying by 'Love Meow', a popular blog for cat lovers. He has more experience working at the store than most employees and has never taken a day off. Which more than what we can say for most humans anywhere. At least the ones of this generation.
Bobo's main duties include sitting on any cardboard that's accidentally on the floor, and welcoming other felines into the store. He often greets his four-legged friends by rolling on his back.
He also reportedly has better customer skills than most others in retail. He meows when they come in, and shows them the different aisles.
"He does a better job than me!" Annie, who decided to set up an Instagram to document Bobo's various activities, said.
Bobo also does a better job at security than a CCTV camera - he makes sure no one steals anything, takes selfies, checks stock and guards the store using his terrifying snarl.
-- With inputs from PTI