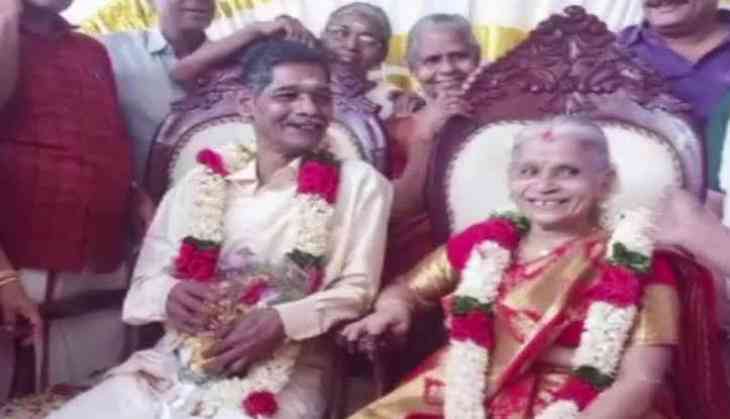 An old age home in Kerala saw an exuberant instant blossom when two of its in residence, who fell in love in their 60's got married in the presence of State Minister VS Shivakumar on Saturday.
Couple years ago, Lakshmi Ammal would not have contemplate the possibility of falling in love and tying knot with a man, working as her husband's assistant, at the age of 65.
As time went by, she met Kochaniyan Menon, 67, again at the government run old age home in Trissur's Ramavarmapuram and the cupid's arrow hit them.
While Ammal had lost her husband, Kochaniyan was forsaken by his family, compelling both of them to take shelter in the old age home.
Soon, the two became friends as the shared the woes of life and then love bloomed between them. The two then decided to get married.
The couple shared their intention with other people at the old age home who happily organised a ceremony for their marriage. Henna, sangeet and other rituals were performed by the residents' friends.
When their story came into attention of VS Shivakumar, he decided to join the celebration. District Collector S Shanavas also attended the function.
Also Read: Watch: Donald Trump appears to sing 'Bohemian Rhapsody' in cleverly edited video
Also Read: It's viral: Have you ever seen camel hugging human? Endearing video will make your Saturday!