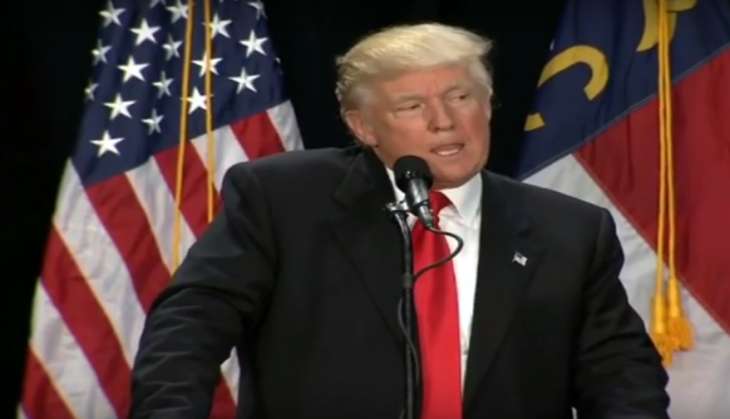 Over the last few months, Donald Trump has managed to stay in the news for his outrageous statements. Trump-isms have ruled, much to the dismay of right-minded folks.
And just when you thought he couldn't possibly surprise you anymore, he has pulled yet another one out of his hat.
In what is bound to be Trump's most unbelievable statement yet, the Republican presidential nominee has apologised for "hurting sentiments".
That's right, let it sink in. Soak it in. Do a double take. Read it again. Rinse and repeat.
On 18 August, Trump addressed a convention at Charlotte, North Carolina. In a shock move, he refrained from resorting to his usual vitriol. Hate speech against expats did not find a place in his speech. And while he managed to criticise rival, Hillary Clinton, or the outgoing Barack Obama-led administration, he appeared to take a relatively tamer approach.
Here's what he said instead:
"Sometimes in the heat of debate and speaking on a multitude of issues, you don't choose the right words or you say the wrong thing."
"I have done that. And, believe it or not, I regret it. I do regret it. Particularly where it may have caused personal pain."
There's more.
"I will not rest until children of every colour in this country are fully included in the American Dream," Trump said, accusing Clinton of "bigotry" and promising to rid America of the evil.
This is not a drill, folks.
Just in case you think Trump may have turned over a new leaf, remember he hasn't mentioned exactly what he is apologising for. Could it be for his anti-immigration rants? Or his derogatory remarks on just about everyone who doesn't back him?
Has Trump hired a new speech-writing team? Is this anything more than a token apology? Could this be a new shock tactic? Has the Trump team decided to try a new approach to win over voters? Or is this a part of what political analysts like call Trump's carefully planned retreat from the Presidential race? So many questions.
Either way, Trump's new speech just drives home the fact that no one knows how to grab eyeballs better than he does. If he loses the presidential race and manages to launch a television network - as has been widely speculated - then at least his TRP-raking tactics and news manipulation skills are bound to come in handy.
Watch the full speech here:
Here are a few Twitter reactions to Trump's uncharacteristic apology:
Is it me or does the Trump "apologies" still sound like more "Sorry. Not Sorry"?

— K. Scott Gant (@ksgant) August 19, 2016
if you are really sorry TRUMP give us your TAXES

— Janet Heinsler (@HEINSLERJAN) August 19, 2016
the first stop of The Trump Apology Tour

— Sam Stein (@samsteinhp) August 19, 2016
TRUMP: "My new guys say if I wanna get real freaky w/ this thing I should offer a token apology first. So, to that end: token apology."

— Owen Ellickson (@onlxn) August 19, 2016
Trump's "apology" was made with all the false sincerity of a used car salesman. Real people see through that but not the media. #inners

— Romney's Limo Driver (@RomneyChauffeur) August 19, 2016
And if you don't have the patience to listen to Trump's speech, here's a link to Justin Beiber's Sorry.