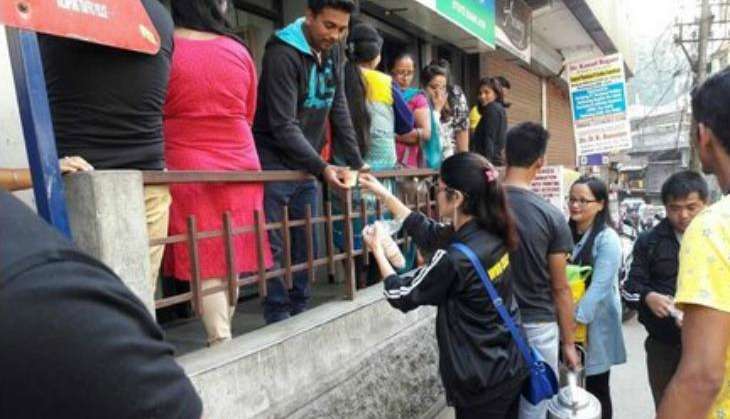 A day before America shocked the world by choosing Donald Trump to be their next President, India was left with their collective jaws on the floor thanks to PM Modi's 8 November announcement of the demonetisation scheme.
Unfortunately, the only ones hit by this scheme - which is being referred to as 'The Great Indian Event' - aren't those with stacks of cash hoarded at home, but daily-wage workers, people from the Lower Income Group, as well as those from the middle-class.
Patients were hit, families busy preparing for weddings at home were hit, shopkeepers/ small-scale industries were hit.
The result? A panicked society that was suddenly left cashless and hysterical at their inability to use their hard-earned income. Everyone rushed to their nearest bank to join serpentine queues so they could exchange old notes or withdraw money in order to restore normalcy.
A few positive stories stood out amid all the gloom surrounding the demonetisation move. As it turns out, a handful of citizens took it upon themselves to help those standing in queues. Some handed out bottles of water, others helped people fill out their forms.
I really appreciate @dominos staff for helping the people with water and tea who were in queue of HDFC bank dwarka mod. pic.twitter.com/OLzAUY6DhD

— Ashwani Saini (@bytemight7) November 14, 2016
Hats off to @PizzaHutIN for offering pizza to people standing in long queues. Have a look.#PizzaHutForIndia pic.twitter.com/ybu2skchwD

— Rahul Nagpal (@rnagpal1995) November 13, 2016
DAZZLING #DARJEELING: Team WHO Cares? Distribute Tea and Water to People Standing in Bank Lineshttps://t.co/8BSPSlNlZ5#EkDinDeshKeNaam pic.twitter.com/YvPujZ3iKU

— Darjeeling Chronicle (@TheDarjChron) November 13, 2016
#pizzahut delivers free #pizzas to #bank employees at hdfc, sg highway branch! Thanks Sneha 4 sharing #currencyban pic.twitter.com/BPIlEaXzzW

— RJ Dhvanit (@RjDhvanit) November 13, 2016
A trekking association group distributing water & biscuit among people standing in a long queue outside a bank. pic.twitter.com/AOJ7cEKlUO

— ASHIM KUMAR DEY (@mail2ashim) November 13, 2016