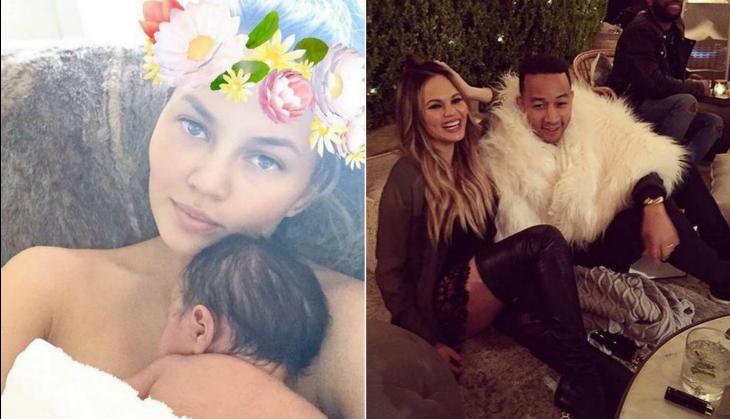 You cannot win on social media.
We rip mothers apart for not losing post baby weight and we rip them apart if they do. Supermodel, food enthusiast, and sunny social media personality Chrissy Teigen posted a photograph of her cooking on Mother's Day. And then the internet broke into two.
Trolls are angry that queen Chrissy would wear a crop top so soon after giving birth. Looks like not everyone is happy that Teigen could bounce back to her pre-baby figure without much of a struggle. In fact, some have gone as far as to imply that she'd had a tummy tuck.
Those made of stranger stuff had this to say:
'@leepy62 .. I had noticed that...I'm very confused. Did she have a surrogate? I know it doesn't go away that quick! Damn that girls body be like a rubber band. Sigh'
'@kendrasasha Can someone post a normal pic of how a woman look after giving birth? Not something that will make new mothers starve themselves.'
While we accept that haters gonna hate, this is a bit much, isn't it? If you can shame a woman for wearing a crop top and feeling good about herself, you must be a pretty toxic human. She was in pretty great shape before so if you're surprised that she lost her pregnancy weight, then a) you must be rather dumb b) how is this even your business.
The gorgeous lady, who recently welcomed home a baby girl, cannot seem to catch a break with the trolls. First, they pounced on her for going on a date with husband John Legend nine days after giving birth.
Then, they bombarded her with indignant comments after she shared a photo of her ruined bed-sheet post a disastrous spray tan session.
To troll a new mom for her baby weight is shameful but to troll a new mom for looking good and accusing her of 'setting 'a bad example' is just as shameful. Has Chrissy body-shamed anyone into losing weight recently? NOPE. The woman can anything she wants, whenever she wants.
In short, what we're saying is that the internet is basically garbage and needs to back the hell off from body-shaming for once and for all.
-- Edited by Aishwarya Yerra