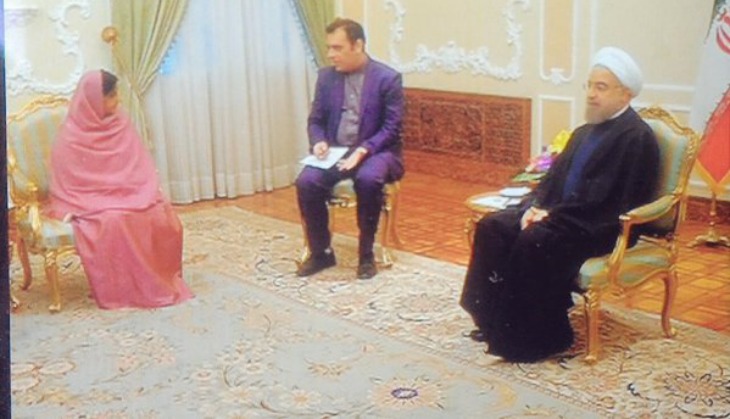 When External Affairs Minister Sushma Swaraj touched-down in Iran for a busy two-day visit, she had no idea she was going to be subjected to massive trolling soon after. 
She met Iranian foreign minister Javad Zarif as well as the advisor to Iran's religious leader Ayatollah Ali Khamenei, Ali Akbar Velayati. 
Not only did she successfully negotiate talks to take the Chabahar port project forward, but Swaraj also paid homage at a gurudwara in Teheran and visited the Kendriya Vidyalaya for a cultural programme.
To the politically-naive mind, her trip would have appeared to be a thumping success. But worldly-wise Twitter was quick to set the record straight. That the External Affairs Minister had decided to cover herself in an abaya for her meeting with the country's President, Hassan Rouhani, caused major outrage on the web.
As pictures of the minister showed up on social media, the trolling began. It seemed incredible to netizens that a woman had chosen to dress herself as she deemed appropriate without prior approval of the public. Why didn't Swaraj's discuss her wardrobe with them before deciding to cover herself the way she did?
The caustic reactions to her clothes, ranging from potato sack to possible conversion to Islam, is hardly surprising. For centuries people have always had an opinion about what women should or should not wear. Did we really expect things to be different for Swaraj just because she a cabinet minister?
Poor Sushma Swaraj is being told by so many men on how she shud dress on diplomatic missions.She must b feeling like an average hijabi today

— Alt-Brumby (@brumbyOz) April 18, 2016
I'm not sure if Swaraj was forced into a shawl. Rouhani has no issues talking to women in western attire I guess. pic.twitter.com/7vhvY5xQG3

— Alt-Brumby (@brumbyOz) April 18, 2016
President of Iran looked impressed by Sushma Swaraj's diplomacy. #NariShakti pic.twitter.com/2zjXGds1TC

— 🔱 (@1heRebel) April 18, 2016
This is embarrassing @SushmaSwaraj. You could've worn a Sari and pulled the Pallu over yr head. https://t.co/GmItzaQYRs

— Tarek Fatah (@TarekFatah) April 17, 2016
Breaking : Sushma Swaraj converts to Shia Islam on her visit to Iran. pic.twitter.com/KaE3Hf0P5Q

— Lame af Monk 😓 (@oldschoolmonk) April 17, 2016
Tamasha over @SushmaSwaraj dress in Iran shows how juvenile our discourse has become. Perfectly fine respecting local culture, sensitivities

— Shekhar Gupta (@ShekharGupta) April 18, 2016