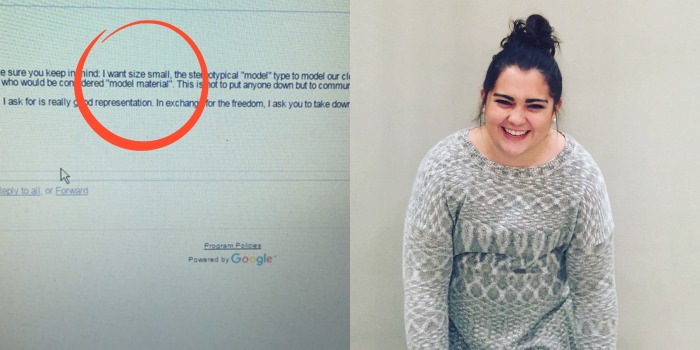 Think that body-shaming only happens to celebrities and models? Nope. We fat-shame people every day of our lives - whether we call out people for NOT gaining weight or we call them out for gaining too much. Our noses seem to be perpetually stuck in somebody else's business.
Sherene Marie Zarrabi a former employee of Dainty Hooligan, a fashion retail chain in Oklahoma, has learned about body-shaming the hard way. In September 2015, Sherene started working at Dainty Hooligan, occasionally styling herself in the store's clothes and posting the image on their Instagram feed.
In times such as these, when even Sports Illustrated has acknowledged that women aren't just restricted to 26-inch waist specimens, you'd expect mindsets to change at least a teensy bit. But what followed probably isn't surprising, given that stupidity and humans go hand-in-hand.
Sherene shared a screenshot of the email the CEO of the company sent her after she chanced upon Sherene's pictures on DH's Insta feed. She wrote:
Hello
Something I want to make sure you keep in mind. I want size small, the stereotypical 'model' to model our clothes. Please use our pictures of our models if Stillwater store can't find someone who would be considered 'model material.'
This is not to put anyone down but to communicate expectations of presenting our brand. Don't take it personal, all I ask for is really good representation. In exchange for the freedom, I ask you to take down all pictures of anyone that doesn't fit the criteria.
Thanks,
Jessica
Here are the red flags one must learn to spot in bosses in particular, and humans in general: 'size small', 'stereotypical model', 'model material'. And THIS:
Don't take it personal, all I ask for is really good representation.
You mean to say your average weighing employee who has a charming smile and probably a lovely personality to go with it is not 'really good representation'? Jessica, you smear the already bad name bosses everywhere have with even more poop. #DouchebagMove
In response to this unbelievable mail (which was marked not just to her), Sherene had this to say: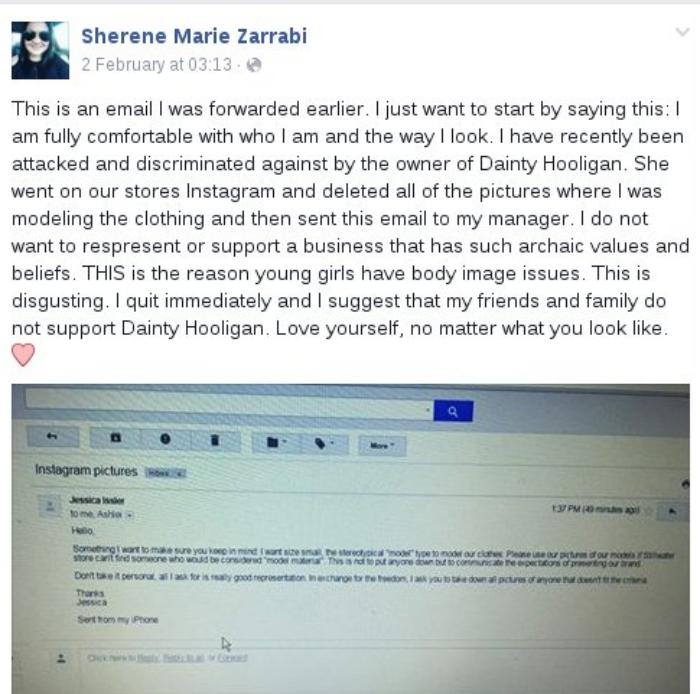 Sherene has turned into something of a hero after over 3k shares, and her very public resignation and take down of the discriminatory practices of DH.
For the record, once word got around that DH had body-shamed an employee, Jessica sent Sherene an apology. Power of social media? Another yay for the online slayers.